Postupující ze dne 1b
| Name | Country | Status | Chips |
| --- | --- | --- | --- |
| Amir Lehavot | USA | PokerStars player | 239,300 |
| Sigurd Andreas Eskeland | Norway | PokerStars qualifier | 184,600 |
| Kirill Shugai | Russia | PokerStars qualifier | 169,100 |
| Ori Hasson | Israel | PokerStars qualifier | 157,600 |
| Bernard Lattouf | Lebanon | Live Satellite | 156,800 |
| Jonathan Roy | Canada | | 149,100 |
| Valentino Yasenov Konakchiev | Bulgaria | PokerStars qualifier | 149,000 |
| Sylvain Loosli | France | | 148,300 |
| Jan Sjavik | Norway | PokerStars player | 142,400 |
| Marius Heiene | Sweden | PokerStars player | 141,900 |
| Andrea Benelli | Italy | | 140,400 |
| Ciaran Burke | Ireland | PokerStars qualifier | 137,700 |
| Luca Pagano | Italy | Team PokerStars Pro | 137,600 |
| Pflanzl Hannes | Germany | PokerStars qualifier | 130,000 |
| Darie Vlad | Romania | PokerStars player | 129,400 |
| Charles Chaya | Canada | PokerStars qualifier | 127,800 |
| Alex Bilokur | Russia | PokerStars player | 118,200 |
| Simon Deadman | UK | PokerStars player | 117,800 |
| Philippe Barouk | France | | 112,800 |
| Dermot Blain | Ireland | PokerStars player | 107,000 |
| Martin Wiklund | Sweden | PokerStars qualifier | 106,400 |
| Ioannis Apostolidis | Greece | | 105,600 |
| Franz Ditz | Germany | PokerStars qualifier | 105,200 |
| Daniel Tighe | UK | | 104,700 |
| Dario Sammartino | Italy | | 103,700 |
| Jonathan Barusta | UK | PokerStars qualifier | 101,600 |
| Andrey Volkov | Russia | | 100,000 |
| Georgii Bandura | Russia | | 99,800 |
| Davidi Kitai | Belgium | | 99,100 |
| Denys Drobyna | Ukraine | PokerStars player | 98,200 |
| Marc Macdonnell | Ireland | PokerStars player | 98,200 |
| Clemens Manzano | Austria | | 98,000 |
| Ludovic Lacay | France | | 97,800 |
| Thomas Muhlocker | Germany | PokerStars qualifier | 95,900 |
| Vasileios Korkas | Greece | PokerStars qualifier | 95,600 |
| Dmitri Holdeew | Germany | PokerStars player | 95,200 |
| Bjorn Brost | Germany | | 95,000 |
| Romain Chauvassagne | France | Live Satellite | 94,900 |
| Victor Sheerman | Russia | | 94,600 |
| Tobias Garp | Sweden | PokerStars player | 92,800 |
| Dany Parlafes | Romania | Live Satellite | 92,700 |
| Pawel Brzeski | Poland | PokerStars qualifier | 92,500 |
| Sina Alamzad | Romania | | 90,200 |
| Sam Greenwood | Canada | PokerStars qualifier | 90,200 |
| Muhammad Fareed | Pakistan | | 90,100 |
| Kenneth Hicks | USA | PokerStars qualifier | 89,500 |
| Hyung Jung | Korea | PokerStars player | 88,000 |
| Bejjani Kamal | Lebanon | | 87,900 |
| Rumen Nanev | Bulgaria | Live Satellite | 87,400 |
| Farid Chati | Turkey | | 87,000 |
| Vadzim Markushevski | Belarus | PokerStars player | 86,700 |
| Krzysztof Stuchlik | Poland | | 85,300 |
| Vadim Belov | Russia | PokerStars qualifier | 85,000 |
| Inigo Rodriguez | Spain | PokerStars qualifier | 84,500 |
| Michael Friedrich | Switzerland | PokerStars player | 84,400 |
| Jorma Nuutinen | Finland | PokerStars player | 84,400 |
| Dmitry Ponomarev | Russia | | 84,100 |
| Dimitry Chernikov | Russia | | 83,900 |
| Joao Baumgarten | Brazil | PokerStars player | 83,800 |
| Sean Prendiville | Ireland | | 83,000 |
| Gerald Karlic | Germany | PokerStars qualifier | 82,800 |
| Sergey Baburin | Russia | PokerStars player | 82,200 |
| Paul Volpe | USA | PokerStars qualifier | 82,100 |
| Eugene Katchalov | Ukraine | Team PokerStars Pro | 81,900 |
| Guillaume Rivet | Canada | PokerStars player | 81,500 |
| Gianluca Rullo | Italy | | 80,400 |
| Lars Anders Dahlin | Sweden | | 80,100 |
| Aleksejs Meless | Latvia | | 79,900 |
| Karen Sarkisyan | Russia | PokerStars player | 79,900 |
| Dag Palovic | Slovakia | Team PokerStars Pro | 79,900 |
| Aliaksandr Posled | Russia | Live Satellite | 79,800 |
| Eduards Kudrjavcevs | Latvia | PokerStars player | 79,800 |
| Bertrand "Elky" Grospellier | France | Team PokerStars Pro | 79,700 |
| Elfad Mammadov | Azerbaijan | | 79,400 |
| Micha Hoedemaker | Netherlands | PokerStars player | 78,400 |
| Nicolai Kramer | Germany | PokerStars player | 77,600 |
| Guillaume Dupuy | France | PokerStars qualifier | 76,900 |
| Umberto Vitagliano | Italy | | 76,400 |
| David Peters | USA | PokerStars player | 76,000 |
| Paul-Francois Tedeschi | France | | 75,300 |
| Kitty Kuo | China | PokerStars qualifier | 75,000 |
| Thomas Pedersen | Denmark | | 74,900 |
| Daniel Negreanu | Canada | Team PokerStars Pro | 74,600 |
| Ioannis Fronimakis | Greece | PokerStars qualifier | 73,800 |
| Ka Kwan Lau | Spain | PokerStars player | 73,000 |
| Amir Sonsino | Israel | | 72,800 |
| Vicente Delgado Zamorano | Spain | PokerStars qualifier | 72,000 |
| Milad Oshabian | Netherlands | Live Satellite | 71,900 |
| Lasell King | Germany | | 71,800 |
| Hau Minh Nguyen | Australia | PokerStars player | 71,400 |
| Gary Johnson | USA | PokerStars qualifier | 71,400 |
| Antonio Lafosse | Peru | | 70,900 |
| Florian Krumpt | Germany | PokerStars qualifier | 70,900 |
| Berthold Winz | Germany | | 70,000 |
| Ihar Koshal | Belarus | PokerStars qualifier | 70,000 |
| Eoghan O'Dea | Ireland | | 69,600 |
| Julian Track | Germany | PokerStars qualifier | 69,600 |
| Denis Pisarev | Russia | PokerStars qualifier | 69,400 |
| Artem Romanov | Russia | | 69,200 |
| Nihat Karyagdi | Romania | PokerStars qualifier | 67,700 |
| Pete Linton | UK | | 67,100 |
| Martin Hanowski | Germany | PokerStars player | 67,000 |
| Cristinel Dumitru | Romania | PokerStars player | 66,700 |
| Thomas Brader | Netherlands | PokerStars player | 66,600 |
| Martin Staszko | Czech Republic | | 65,800 |
| Vyacheslav Stoyanov | Russia | PokerStars player | 65,800 |
| Jakub Michalak | Poland | PokerStars player | 65,700 |
| Dmytko Samoilenko | Ukraine | Live Satellite | 65,300 |
| Zdravko Duvnjak | Netherlands | PokerStars player | 65,000 |
| Artem Pilkevich | Russia | PokerStars qualifier | 64,500 |
| Aleksandr Tulaev | Russia | | 63,200 |
| Stefan Lehner | Austria | PokerStars qualifier | 63,200 |
| Stephane Benadiba | France | | 63,100 |
| Idan Raviv | Israel | PokerStars player | 63,000 |
| Peter Turmezey | Hungary | PokerStars qualifier | 62,800 |
| Stephen Chidwick | UK | PokerStars qualifier | 62,500 |
| Walter Blattler | Switzerland | | 62,000 |
| Ilan Suloman | Israel | | 61,500 |
| Ozcan Tok | Switzerland | | 61,400 |
| Adam Markovits | Hungary | PokerStars qualifier | 61,200 |
| Matvey Linov | Russia | PokerStars player | 60,000 |
| Matthew Haugen | USA | | 59,700 |
| Viacheslav Goryachev | Russia | | 59,600 |
| Alex Kravchenko | Russia | PokerStars player | 58,700 |
| Emmanuel Francois Murcia | Belgium | | 58,600 |
| Martin Finger | Germany | PokerStars qualifier | 58,600 |
| Marius Pospiech | Germany | PokerStars qualifier | 58,500 |
| Martin Nikolov | Bulgaria | Live Satellite | 58,400 |
| Igor Dubinskyy | Ukraine | | 58,300 |
| Anton Kraus | Bulgaria | PokerStars qualifier | 58,300 |
| Kuljinder Sidhu | UK | | 57,600 |
| Milan Joksic | Austria | | 56,300 |
| Maximilian Senft | Germany | | 56,200 |
| Wojciech Lozowski | Poland | | 56,100 |
| Anatoly Chen | Russia | | 55,600 |
| Waldemar Peter | Germany | Live Satellite | 55,400 |
| Robin Ylitalo | Sweden | PokerStars qualifier | 55,400 |
| Manuel Bevand | France | | 55,100 |
| Christian Golob | Austria | | 55,100 |
| Giovani Torre | Portugal | Live Satellite | 55,100 |
| Thomas Mercier | Belgium | | 55,000 |
| Filippo Lazzaretto | Italy | Live Satellite | 55,000 |
| Gustavo Lopez Garcia | Spain | Live Satellite | 54,400 |
| Piotr Robert Pietrzak | Poland | PokerStars player | 54,300 |
| Hannu Peltola | Finland | | 54,200 |
| Andrii Nadieliaiev | Ukraine | | 53,400 |
| Natan Lecht | Israel | | 53,200 |
| Aleksandr Konstantinov | Russia | | 53,100 |
| Hugh Drummond | Canada | PokerStars player | 52,000 |
| Vitaly Lunkin | Russia | | 51,900 |
| Yann Del Rey | France | | 51,500 |
| Pasquale Braco | Italy | Live Satellite | 51,500 |
| Markus Kivipuro | Finland | PokerStars player | 51,400 |
| Josef Antos | Czech Republic | PokerStars qualifier | 51,100 |
| Erwann Pecheux | France | | 50,700 |
| David Williams | USA | PokerStars player | 50,500 |
| Apostolos Chatzopoulos | Germany | Live Satellite | 50,300 |
| Joe Laming | UK | | 49,600 |
| Juha Lauttamus | Finland | PokerStars player | 49,400 |
| David Biagi | Italy | | 49,300 |
| Shai Zurr | Israel | PokerStars player | 49,100 |
| Stefan Vagner | Slovakia | | 48,700 |
| Marc-Andre Ladouceur | Canada | PokerStars Team Online | 48,500 |
| Kemal Sevevi | Turkey | Live Satellite | 48,200 |
| Sunny Chattha | UK | | 48,000 |
| Andrey Grenko | Russia | | 47,600 |
| Petr Glasko | Russia | | 47,400 |
| Andrey Shaporin | Russia | | 47,400 |
| Tamer Kamel | UK | PokerStars qualifier | 47,400 |
| Serge Matta | Lebanon | | 46,300 |
| Adrian Veghinas | Romania | Live Satellite | 46,300 |
| Simeon Naydenov | Bulgaria | PokerStars qualifier | 46,100 |
| Florian-Dimitrie Duta | Romania | Live Satellite | 45,600 |
| Andrew Chen | Canada | Live Satellite | 45,300 |
| Szabolcs Mayer | Hungary | | 44,700 |
| Marvin Rettenmaier | Germany | PokerStars player | 44,700 |
| Sotirios Koutoupas | Greece | | 44,000 |
| Carlos Egea | Spain | | 43,800 |
| Dmitry Grishin | Russia | PokerStars qualifier | 43,700 |
| Mikhail Shevchuk | Russia | Live Satellite | 43,500 |
| Alexander Dovzhenko | Russia | PokerStars player | 43,400 |
| Antonis Poulengeris | UK | PokerStars qualifier | 43,400 |
| Mario Re | Italy | | 43,100 |
| Stephan Kjerstad | Norway | PokerStars player | 43,100 |
| Jonas Lauck | Germany | PokerStars qualifier | 42,700 |
| Ole Schemion | Germany | PokerStars qualifier | 42,500 |
| Bogdan Ana | Romania | PokerStars player | 42,100 |
| Niclas Svensson | Sweden | PokerStars qualifier | 42,000 |
| Vlado Banicevic | Montenegro | | 41,700 |
| Vitalijs Zavorotnijs | Latvia | PokerStars player | 41,500 |
| Gaik Karabakhtcian | Russia | | 41,300 |
| Andrei Demidov | Russia | | 41,000 |
| Leonid Lerner | USA | Live Satellite | 41,000 |
| Thomas Scholze | Austria | PokerStars qualifier | 41,000 |
| Tom Alner | UK | | 40,600 |
| Dimitar Danchev | Bulgaria | | 40,500 |
| Dietrich Fast | Germany | Live Satellite | 40,500 |
| Victor Podofedenko | Russia | PokerStars player | 40,300 |
| Nicolas Levi | France | | 40,200 |
| Ihar Soika | Belarus | PokerStars qualifier | 40,200 |
| Christophe De Meulder | Belgium | Team PokerStars Pro | 40,100 |
| Bela Toth | Hungary | PokerStars qualifier | 39,600 |
| Andrei Lazarev | Russia | PokerStars qualifier | 39,600 |
| Niko Mykkanen | Finland | | 39,300 |
| Yury Gulyy | Russia | | 38,600 |
| Marat Begenov | Kazakhstan | | 38,500 |
| Manig Loeser | Germany | PokerStars player | 38,400 |
| Ivan Soshnikov | Russia | PokerStars qualifier | 38,100 |
| Jeton Alimusaj | Sweden | | 38,000 |
| Christian Grundtvig | Denmark | | 38,000 |
| Igor Izmaylov | Russia | | 37,900 |
| Mickey Petersen | Denmark | PokerStars Team Online | 37,800 |
| Marco Leonzio | Italy | | 37,200 |
| Mathias Puzich | Germany | Live Satellite | 36,800 |
| Gwendal Montiton | France | Live Satellite | 36,400 |
| Dylan Linde | USA | PokerStars qualifier | 36,400 |
| Thor Drexel | Denmark | PokerStars player | 36,300 |
| Dmitry Yurasov | Russia | PokerStars qualifier | 36,200 |
| Dmitry Vitkind | Russia | PokerStars qualifier | 36,000 |
| Taylor Von Kriegenbergh | USA | PokerStars qualifier | 35,900 |
| Stefan Kolossow | Germany | PokerStars player | 35,000 |
| Alberto Fiorilla | Italy | Live Satellite | 34,700 |
| Dominik Nitsche | Germany | PokerStars qualifier | 34,700 |
| Ermakov Roman | Russia | PokerStars qualifier | 34,600 |
| Bryan James Paris | USA | PokerStars player | 34,500 |
| Stepan Lavrin | Russia | PokerStars qualifier | 34,200 |
| Edouard Mignot | France | | 34,000 |
| Gaelle Baumann | France | | 33,800 |
| Gergely Rona | Hungary | PokerStars player | 32,900 |
| Mantas Visockis | Lithuania | PokerStars qualifier | 32,900 |
| Mohamed Almani | Libya | | 32,700 |
| Siarhei Sharkota | Belarus | | 32,500 |
| Friedrich Paul Raz | Switzerland | | 32,400 |
| Nikov Dobromir Georgiev | Bulgaria | | 32,200 |
| Andreas Agiostratitis | Greece | PokerStars qualifier | 32,200 |
| Luca Amoruso | Italy | | 32,000 |
| Miltiadis Kyriakides | Greece | PokerStars qualifier | 32,000 |
| Caicai Huang | UK | PokerStars qualifier | 31,700 |
| Darko Stojanovic | France | | 31,500 |
| Daniele Todeschini | Italy | | 31,200 |
| Bryn Kenney | USA | PokerStars qualifier | 31,000 |
| David Vamplew | UK | PokerStars qualifier | 30,700 |
| Alessandro Monticciolo | Italy | | 30,400 |
| Gereon Sowa | Germany | PokerStars qualifier | 30,400 |
| Onur Guvan | UK | | 29,800 |
| Cezar Oprea | Romania | Live Satellite | 29,700 |
| Vasily Andrienko | Russia | | 29,400 |
| Ana Marquez | Spain | PokerStars qualifier | 28,700 |
| Nicola Grieco | Italy | | 28,600 |
| Salman Behbehani | Kuwait | PokerStars player | 28,500 |
| Jan Susicky | Czech Republic | | 28,300 |
| Robert Zipf | Germany | | 28,100 |
| Lukas Hnizdo | Czech Republic | PokerStars player | 28,100 |
| Peter Barrable | Ireland | | 28,000 |
| Andreas Wiese | Germany | | 27,500 |
| Giuseppe Zarbo | Italy | | 27,400 |
| Jose Maria Galindo | Spain | | 27,300 |
| Claude Philippe Marbleu | France | Live Satellite | 27,200 |
| Julian Thomas | Germany | PokerStars player | 26,600 |
| Pavel Meshkov | Belarus | PokerStars player | 26,500 |
| Marc-Etienne Mclaughlin | Canada | PokerStars player | 26,100 |
| Ismael Bojang | Germany | PokerStars player | 26,100 |
| Slaven Popov | Bulgaria | | 25,600 |
| Bolivar Palacios | Panama | PokerStars player | 25,500 |
| Kevin Macphee | USA | PokerStars qualifier | 25,500 |
| Matthias De Meulder | Belgium | Team PokerStars Pro | 25,200 |
| Danilo Velasevic | Serbia | | 25,100 |
| Joe Mouawad | Lebanon | PokerStars qualifier | 24,900 |
| Anton Komarov | Russia | | 24,800 |
| Andrey Baturin | Russia | | 24,600 |
| Lasse Frost | Denmark | PokerStars qualifier | 24,500 |
| Lenoir Eric | Belgium | | 24,400 |
| Natalie Hof | Germany | Friend of PokerStars | 23,900 |
| Sofia Lovgren | Sweden | | 23,800 |
| Aleksey Ponakov | Latvia | PokerStars player | 23,800 |
| Toni Judet | Romania | | 23,400 |
| Max Greenwood | Canada | PokerStars player | 23,000 |
| Richard Milne Snr. | UK | PokerStars qualifier | 22,900 |
| Jeremie Maxime Beneteau | France | Live Satellite | 22,700 |
| Manuel Andrees Sadornil | Spain | | 22,000 |
| Simon Harig | Australia | PokerStars player | 21,800 |
| Florian Lohnert | Germany | PokerStars player | 21,600 |
| Moshe Elazar | Israel | PokerStars player | 20,800 |
| Tomasz Chmiel | Poland | PokerStars qualifier | 20,800 |
| Plamen Todorov | Bulgaria | | 20,600 |
| Michael Gross | Germany | PokerStars qualifier | 20,600 |
| Marek Tatar | Slovakia | | 20,000 |
| Tolik Shkoyan | Russia | | 20,000 |
| Stefan Ivanov | Bulgaria | PokerStars qualifier | 19,900 |
| Nikita Nikolaev | Russia | PokerStars qualifier | 19,600 |
| Micah Raskin | USA | | 19,300 |
| Bryan Leskowitz | USA | PokerStars player | 19,100 |
| Giacomo Fundaro | Italy | | 18,700 |
| Vlad Rosca | Australia | PokerStars qualifier | 18,700 |
| Yaacoub Jihad | Lebanon | | 18,600 |
| Gintaras Simaitis | Lithuania | | 18,300 |
| Sonny Marcel Jean Franco | France | Live Satellite | 17,800 |
| Dmitrijs Meless | Latvia | PokerStars player | 17,800 |
| Alexandros Dumitru Savin | Romania | Live Satellite | 17,700 |
| Franz-Josef Breuer | Germany | PokerStars qualifier | 17,600 |
| Martin Kabrhel | Czech Republic | PokerStars player | 17,300 |
| Sam Cohen | USA | | 16,900 |
| Abou Saleh Elias | Lebanon | | 16,700 |
| Carla Solinas | Italy | | 16,700 |
| Francis-Nicolas Bouchard | Canada | PokerStars player | 16,400 |
| Mikhail Surin | Russia | PokerStars player | 16,400 |
| Marian Kubis | Slovenia | | 16,300 |
| Alexander Debus | Germany | PokerStars qualifier | 16,300 |
| Remi Castaignon | France | | 16,100 |
| Mikalai Pobal | Belarus | | 15,900 |
| Martin Balaz | Czech Republic | PokerStars player | 15,500 |
| Carl Carlsson | Sweden | PokerStars qualifier | 15,500 |
| Joseph El Khoury | Lebanon | | 15,300 |
| Saar Wilf | Israel | | 15,300 |
| Rytis Praninskas | Lithuania | Live Satellite | 15,200 |
| Jordi Riba Corrons | Andorra | PokerStars qualifier | 14,600 |
| Gregoire Panetti | Switzerland | | 14,100 |
| Somar Al-Darwich | Germany | PokerStars player | 13,300 |
| Todd Terry | USA | | 12,800 |
| Jaroslav Baria | Slovenia | Live Satellite | 12,800 |
| Mihai Manole | Romania | PokerStars player | 12,600 |
| Timo Isotalo | Finland | PokerStars qualifier | 12,600 |
| Scott Clements | Canada | PokerStars qualifier | 12,400 |
| Evgeny Kocherov | Russia | | 12,200 |
| Stanislavs Macugins | Russia | Live Satellite | 12,200 |
| Ryan Spittles | UK | | 12,100 |
| Maximilian Bassil | Norway | PokerStars qualifier | 12,000 |
| Norbert Szecsi | Hungary | PokerStars player | 11,800 |
| Paul Varano | USA | PokerStars player | 11,700 |
| Johan van Til | Netherlands | PokerStars qualifier | 10,800 |
| Andrey Bondar | Russia | | 9,500 |
| Maxence Dupont | France | PokerStars qualifier | 9,100 |
| Johannes Korsar | Sweden | PokerStars player | 8,300 |
| Kilian Kramer | Germany | PokerStars player | 7,400 |
| Eli Bohbot | Israel | PokerStars qualifier | 7,400 |
| Slobodan Ruzicic | Serbia | | 6,400 |
| Kamran Aghamammadov | Azerbaijan | | 6,000 |
| Viktor Chiginev | Russia | | 4,900 |
Martin Baláž double up
Na samém sklonku dne se konečně povedlo zdvojnásobit Martinu Balážovi, který tak do další fáze turnaje odejde s přibližně 17.000.
"Vytočil jsem flip s J-J do A-Q. Jsem ale celkem frustrovanej. Nejlepší handu na open jsem tady na tom stole měl Q-To, na re-shove 7-8 off. A ryby postupně vypadávaly..."
Leda, že by ten bluff měl...
"Jsem udělal takovej projekt..." hlásí TJay na sedačce ve foyer. "Ale líbil se mi."
V inkriminované handě Junek otevřel z hijacku s 9 , 8 a Jonathan Roy zadefendoval big blind. Na flopu 10 , 7 , 4 Roy checknul, aby poté do Junkova 1,7tisícového cbetu check/raisnul 4.000. Junek dorovnal a na turn přišla Q .
Roy vsadil 6.500, Junek call a jako pátá společná karta se na stole zjevila 9 . Kanadský profesionál betnul 12.000 a poté s 10 , 7 tank/callnul Junkův shove za 35.000.
"Přitom jsem tam nikdy nemohl mít bluff," zakončuje se smíchem své vyprávění.
Martin Staszko double up
AA do KK, all-in preflop, 65k...
Lukáš se nezjančil
Gianluca Rullo otevřel na 1.600, Simon Harig 3betnul 5.000 a mladá švédská profesionálka PKR.com Sofia Lovgren 4bet shovenula 17.500.
Jako poslední byl na big blindu na řadě Lukáš Hnízdo s cca 25.000 v žetonech a evidentně složitým rozhodnutí. Po asi minutě a půl zahodil, Rullo také a Harig rychle dorovnal.
Lovgren otáčí esa, Harig kingy a board nic zajímavého nepřináší.
"Měl jsem A-K. Ještě, že jsem se nějak nezbláznil," zhluboka si oddechl český hráč.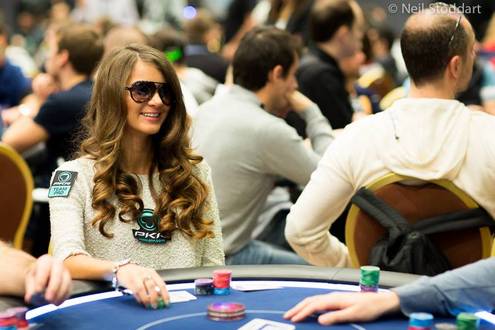 Jako na potvoru...
"Teďka velká škoda. Flopnul jsem tady do dvou pánů top set," ukazuje na dva rozvášněné Italy po své levici, "... mno a flop jsme procheckovali a pak mi na turnu oba zahodili na bet."
Tomáš Junek - 45.000
Josef Antoš dostává dárek a jde na 60k
A opět v tom měl prsty níže zmíněný hráč.
"Zase ten chipleader, co vyřadil Pavla. Otevřel jsem s A-Ks a on do mě z velkého blindu shovenul nějakých 35 big blindů s K-6 off. Po té hře jsem šel na nějakých 48 tisíc a pak jsem ještě vyhrál dva menší poty."
Josef Antoš - 60.500
Končí i Pavel Binar
Pokus dostat se ze shortstacku nevyšel ani Pavlu Binarovi.
Ten ve své poslední handě letošní pražského EPT open shovenul 15 big blindů s A-K, podivně hrající chipleader jeho stolu callnul s 9-7 a od dealera za to dostal sedmičku...
Začíná poslední level dne 1b. Blindy se mění na 300/600/75, avg. stack je 42.320 a z původních 608 hráčů zbývá 431 přeživších.
Milan Stojka busto
Milan Stojka neprve prohrál preflop all-in s KK do AT a později se na boardu Q-5-7-K za posledních devět tisíc stackoffnul s K-Q. Soupeř ukázal 5-5, river blank.
Velká show na Balážově stole
Martin Baláž má na svém stole letošní November Ninery Marc-Etienna McLaughlina a Amira Lehavota, ale přesto říká: "Tohle je nejlehčí stůl, kterej jsem kdy viděl."
O zábavu se stará zjevně přiopilý pán, který předvádí jednu zajímavější handu za druhou.
V jedné z nich limpnul, Baláž izoraisenul s A-7, call. Na flopu 924r poté svérázný pán check/shovenul 40bb a ukázal 92o. V další pak na UTG+2 flat/callnul open raise hráče na UTG a poté s T-8o dorovnal 30blindový shove z malého blindu... Handu vyhrál...
Baláž má nyní 15.000.
Jan Sušický padá pod starting stack
Aktivní mladík otevřel z MP na 1.025, cutoff 3betnul 2.600 a Jan Sušický na buttonu našel Q , Q , se kterými se rozhodl 4betnout 6.300. Opener zahodil, ale cutoff 5bet shovenul 25.000.
Sušický dorovnal, ale v showdownu bohužel zjistil, že se trefil do A , A .
Board J , 8 , 5 , 3 , 8 a stack našeho hráče se smrskává na 28.500 v žetonech.
Martin Kabrhel...
"Už jsi psal něco o mym stole? Ještě ne, jo? Tak napiš, že tu je nýmand, blbeček, nýmand, blbeček, nýmand a támhle dva blbečkové vedle sebe," pokřikuje na mě Miky Kabrhel.
Po napomenutí od dealera omluvně dodává: "I'm sorry I was just sayi'n there are a lot of nice guys at this table."
Martin Kabrhel - 41.000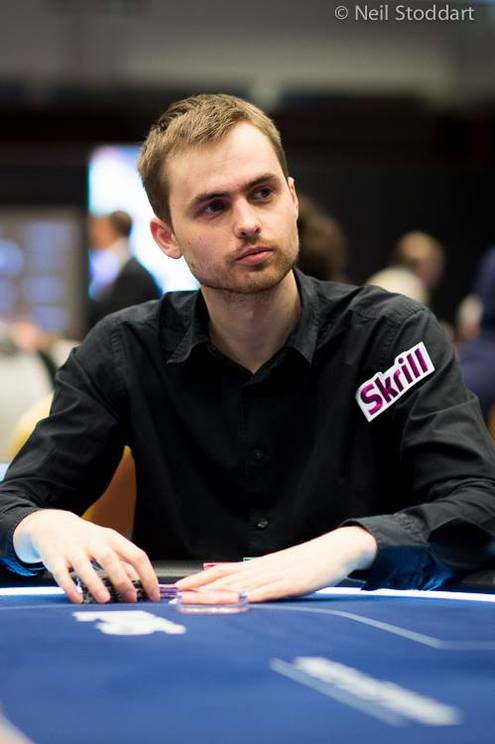 Pavel Binar v ohrožení
Vstup do nového levelu se vůbec nepovedl Pavlu Binarovi. V současné chvíli hraje s pouhými 6.000 v žetonech.
V předposledním levelu dne blindy rostou na 250/500/a50.
Josef Antoš double up
Opačným směrem se naštěstí pohnul stack Josefa Antoše.
"Tady pán vedle mě otevřel cutoff a já jsem z buttonu rovnou za 30 blindů 3bet shovenul AK. Big blind našel queeny, opener fold a vytočil jsem to."
Antoš má v tuto chvíli přesně starting stack.
Pavel Binar se propadá na 15k
"Všechno..." odpovídá mi Pavel na otázku, co že to prohrál, že má před sebou nyní pouze 15 tisíc v žetonech. "Ale nejvíc tady do pána - AK do sedmiček," ukazuje na stack vedle sedícího Ramona "ramondemon77" Csereie.
Pokud Cserei od té doby něco nepovyhrával, tak náš hráč ve zmíněné handě přišel o přibližně 20.000.
Sušický českým chipleaderem
Jan Sušický otevřel z cutoffu na 800 a dostal flat od Estonce Raiga Aasmaa (finalista EPT Tallinn 2011 a vítěz GSOP Prague ze stejného roku), který zadefendoval big blind.
Na flopu 3 , Q , J šla akce check-check, ale na turnu 4 už náš hráč po druhém Aasmově checku vsadil 1.250. Setkal se ovšem s odporem v podobě check/raisu na 2.800. Ten dorovnal a na river přišla 9 .
Aasmaa checknul a Sušický vsadil 9.800. Estonec přemýšlel dobrých sedm minut, takže logicky následoval time. Ještě před vypršením minutového odpočtu dorovnal, nicméně toho vzápětí hodně litoval, protože Sušický otočil nuts s A , 4 .
"Jsem ho pěkně rivernul, no. Nemohl mít asi nic moc jinýho, než tu king-high flush. Možná už i na turnu," říká po hře a rovná si svůj 65tisícový stack.
Na blindy 200/400/a50 pokračuje 501 hráčů z 601 zaregistrovaných.
Chipcounty
Martin Kabrhel - 59.000
Jan Sušický - 44.000
Tomáš Junek - 42.000
Pavel Binar - 40.000
Milan Stojka - 38.000
Martin Staszko - 33.000
Lukáš Hnízdo - 19.000
Martin Baláž - 17.000
Josef Antoš - 15.000
Dag Palovič - 11.000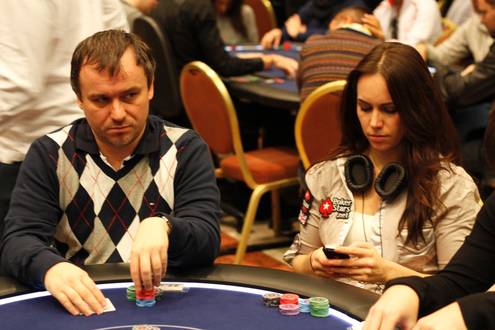 Český setup
Pavel Binar otevřel z cutoffu a byl dorovnán hráčem na buttonu plus Josefem Antošem na malém blindu.
Na flopu J , 10 , 7 Antoš checknul, Binar cbetnul 1.100, button callnul a Antoš zvolil check/raise na 3.300. Binar callnul, button zahodil.
Akce se ještě více vyhrotila na turnu 4 . Antoš do jedenáctitisícového Binarova stacku vsadil rovných 5.000 a dorovnal následný Pavlův shove.
V showdownu Antoš ukázal 7 , 7 , Binar J , J , river blank.
Pavel Binar - 34.000
Josef Antoš - 13.500
Po breaku jdeme na 150/300/25.
Majer, Vinklárek a Blaško busto
Ondřej Vinklárek za svých několik posledních blindů nevytočil flip a nepokračují ani Luděk Majer s Markem Blaškem.
Info
Zbývá zhruba 15 minut do uplynutí čtvrtého levelu (100/200/a25). Avg. stack je 32.417 a z původního počtu 590 hráčů jich zbývá 540.
Petr Hlaváček vyřazen
Ve foyer jsem v družném hovoru přistihl Petra Hlaváčka, Martina Hrubého a Lukáše Nachtmanna, což mohlo znamenat jediné - vyřazení prvního zmíněného.
"Když už jsem byl odhozenej na 9 tisíc, tak jsem si z UTG+1 otevřel K-K a dostal jsem čtyři cally. Na flopu 9-5-4cc jsem jako druhej na řadě, tak dávám check, protože chci, aby hráli oni, jeden člověk za mnou dává 1.100, call a dostává se to ke mně. Takže dávám all-in těch 9 tisíc, call a re-raise all-in. Tak to už je mi jasný že je zle. Otočil set čtyřek a hold."
"Je to škoda, hodně jsem se na ten turnaj těšil, ale vůbec nic mi nevycházelo. Nedokázal jsem se dostat do hry," lituje Olaf.
Eliminace
Jaroslav Peter
Milan Stojka
Edit: Milan Stojka hraje, má cca 20k.
Vinkyy bere hru na shortstacku s největší zodpovědností
"Trápim se trápim," oznamuje mi Vinkyy po odehrání dalšího orbitu.
"Mám ale pocit, že máš nějaký masochistický sklony. Se ti líbí, jak tady posunuju to ante, viď?" reaguje na moje přešlapování nad stolem a žmoulá v ruce své 3,5k.
U Antoše stále nic zajímavého
Josef Antoš otevřel z buttonu na 500 a byl dorovnán Dietrichem Fastem na small blindu.
Na flopu A , 8 , 8 Fast checknul, Antoš cbetnul 525, call. Po rozdání turnové 6 tentokrát Antoš checknul behind a board doplnila 8 .
Fast dostál svému jménu, okamžitě vsadil 675 a Antoš stejně rychle zahodil. Nyní má 29.000.
Ondřej Vinklárek nalezen
Se čtyřmi tisícovkami a Davidem Petersem na stole.
Jan Sušický jde po velké hře na 52k
Jan Sušický sice do turnaje nevstoupil vůbec dobře a rychle se propadl na cca 15.000, ale aktuálně je jeho situace mnohem růžovější - slovy čísel 52.000. Vděčí za to zejména následující handě:
UTG otevřel na 400, UTG+3 flat, cutoff flat, flat small blind a callnul také náš hráč na velkém blindu s 7 , 5 . Na flopu 8-6-4 rainbow small blind check, Sušický check, opener check a flatter a dává 1.100. Cutoff fold, hráč na malém blindu dorovnává, ale Sušický check/raisuje na 4.025, čímž redukuje počet svých soupeřů na jediného, a tím je hráč na UTG+3.
Na turn přichází 3x, Sušický betuje 7.350 a dorovnává následný shove za 20.500. Soupeř otáčí 8-8, na river přichází devítka.
Martin Hrubý busto
Třetí hrací level se stal usudným jedinému českému členu Team PokerStars Pro Martinu Hrubému. Prý kingy do es... Pravděpodobně jsme přišli také o Ondřeje Vinklárka, který po jedné z hand spadl na pouhé 2.000 v žetonech a v sále jsem ho od té doby nezahlédl.
Tomáš Junek na startingu
"Zatím nic moc zajímavýho, jen pár standardních situací. Mám ale teda nedostatek value hand, už by to nějakou chtělo," vypráví Tomáš Junek, před kterým v té chvíli leží 26.000 v žetonech.
O chvíli později otevírá z MP na 450 a dostává flat od hráče na buttonu a Jonathana Roye (šampion WPT Montreal 2012) na velkém blindu. Na flopu 2 , 6 , K Roy checknul, Junek cbetnul 750, button zahodil a Roy dorovnal.
Na turnu 8 dává Roy check a Junek bere pot sázkou 1.250.
Sledujte live stream
V 15:00 hodin byl zahájen live stream s anglickým komentářem Joe Stapletona a Jamese Hartigana. Sledovat jej můžete zde.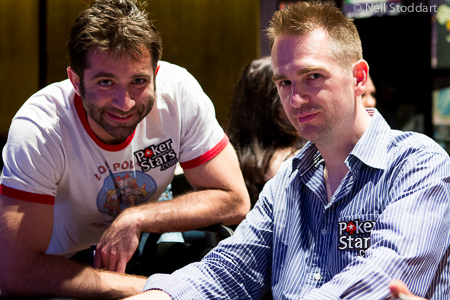 Pokračujeme na blindech 100/200.
Ike Haxton připravuje Lukáše Hnízda o žetony
Lukáš Hnízdo otevřel z UTG a dostal flaty od Kuljindera Sidha na UTG+2 a Cesara Garcii na cutoffu. Na řadě byl Isaac "Ike" Haxton, který ze svého arzenálu vytáhl squeeze na 1.600. Český hráč se ale slavného jména nezalekl a 4betnul 3.600. Sidhu s Garciou zahodili a Haxton po asi minutě callnul.
Na flopu 8 , 3 , K Hnízdo vsadil 2.800, Haxton tank/callnul a na turn dealerka rozdala Q . Zde už ovšem do té doby pěkná akce skončila. Hnízdo checknul, Ike po důkladné úvaze vsadil 7.300 a náš zástupce své karty musel zahodit...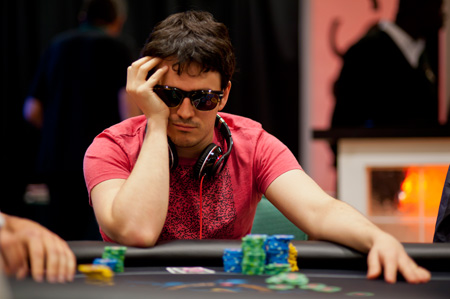 Haxton na PCA
Dag přišel o polovinu stacku
Dag Palovič před malou chvílí tweetnul, že prohrál fullhouse do quads a následkem toho se propadl na 14.150.
Pot pro Lukáše Hnízda
Lukáš Hnízdo otevřel z hijacku na 350 a byl dorovnán Kuljinderem Sidhem na buttonu.
Na flopu 3 , 10 , 6 Hnízdo cbetnul 600, dostal call a na turn přišla 3 . Následoval druhý barrel 1.100 a další call.
Po rozdání riverového K se Hnízdo rozhodl pouze checknout a Sidhu se pokusil sebrat pot sázkou 2.000. Českému hráči call sice chvíli trval, ale nakonec se k němu přece jen přemluvil. Brit okamžitě mucknul a Hnízdo tak stoupá na 34.000.
Mladý český hráč má poměrně obtížný stůl - společnost mu dělají Bolivar "Ramux" Palacios, John O'Shea, Sylvain Loosli, Cesar Garcia a především Ike Haxton.
Blindy stoupají na 75/150.
Další Češi
Martinu Kabrhelovi dělá u stolu společnost Martin Baláž, nastoupili také Ondřej Vinklárek, Josef Antoš, Luděk Majer a Pavel Binar.
Martin Kabrhel v první větší hře
Stále nemám k dispozici dnešní seating, takže to bude tentokrát bez jmen.
MP otevřel na 300, mlaďas na hijacku flatnul, to samé provedl hráč na cutoffu a Martin Kabrhel se do akce před sebou vložil squeezem na 1.500 z malého blindu. Zahodil pouze opener a pokračovalo se na flop 5 , K , J , kde Kabrhel po delší úvaze vsadil 1.500, což dorovnal pouze hijack.
Na turnu 9 se Kabrhel opět na několik minut zamyslel a výsledkem byl druhý barrel 3.375. Call.
Na riveru J před sebe náš hráč vhodil dva modré pětitisícové žetony a jeho soupeř snap/foldnul.
Kevin měl pravdu:
Just sat down to play day 1b of #EPTPrague & Martin Kabrhel at my table so there should be some early action.

— Kevin MacPhee (@KevinMacPhee) December 13, 2013
Šampion WSOP na místě, Martin Staszko také
Pražské EPT si zahraje také Tomáš Junek, jediný český držitel zlatého náramku pro vítěze turnaje World Series of Poker. Za stolem už sedí také Martin Staszko.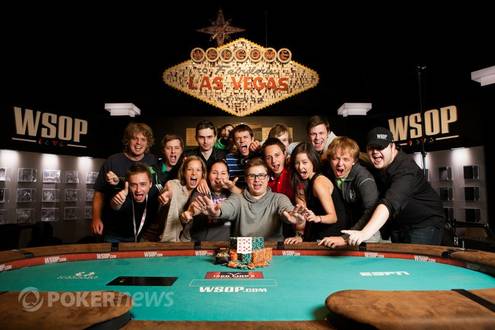 Klasickej rekord
Stalo se, co každý očekával. Main Event EPT Prague bude opět o něco větší než ten předcházející. Logicky to nebude sice tak razantní nárůst, jako tomu bylo u letošní Eureky, ale i tak to budou krásná čísla.
Do dnešního flightu do této chvíle stihlo nastoupit 531 hráčů, což společně se včerejšími 385 registracemi dává počet 916 účastníků. Loňské maximum 864 hráčů je tak dávno překonáno.
Jan Sušický hned zkraje turnaje na špatné straně setupu
Nepěkné uvítání připravil dealer Janu Sušickému.
"Už jsem tady měl jednu hezkou handu. Na 6-6-8-8-Q jsem dostal 7-8 do šestek, ale hodně jsem to pot-controloval, takže mi zbylo 26.500 (startovní stack je 30.000 v žetonech pozn. red.)," informuje mě.
Jarda Peter v turnaji
Do turnaje nastoupil také Jaroslav Peter, čtvrtý muž Main Eventu pražské Eureka Poker Tour.
Češi v turnaji
Během svého prvního průchodu hracím sálem jsem za stoly spatřil Martina Kabrhela, Jana Sušického, Lukáše Hnízda a Milana Stojku. Většina našich pravděpodobně naskočí později.
Oficiální seznam zaregistrovaných hráčů bych měl obdržet co nevidět, takže poté celý seznam zkompletuji.
Marty, Olaf a Dag in
Několik střípků z facebooku:
"ME EPT Praha 2013 za necelé 2h nastupujeme, takže vana lehkej oběd a jdeme do boje." - Martin Hrubý
"Tak dnes EPT Prague den 1 B za 5300€ buy in .....GL me" - Petr Hlaváček
"Dnes o 12:00 hrám ... držte palce dííík" - Dag Palovič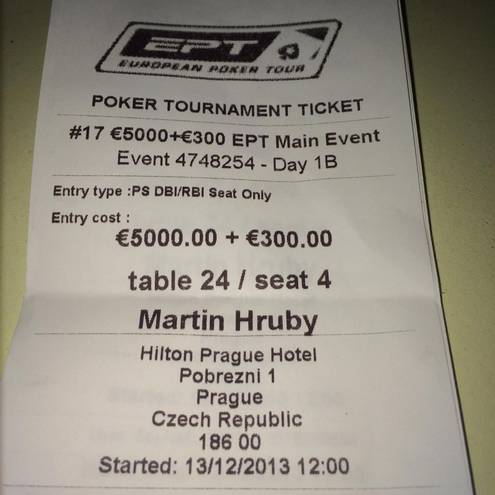 Největší nice guy, kterýho jsem kdy viděl
Krátký přepis rozhovoru Daniela Negreana s reportérkou Pokernews Sarou Grant v našem press roomu:
Dan: "Hey guys, do you know where the office is?"
Sarah: "Sorry Dan I can't shake your hand, I am so sweaty right now, I'm just going through..."
Dan: "Menopause?"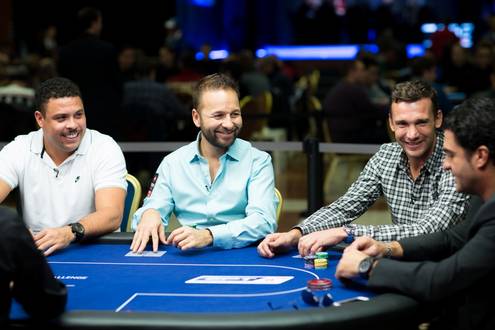 Ján Bendík obsadil v Eureka High Roller druhé místo a získal €131.000, šampionem je David Peters
Nejlepší hráč minulé sezóny European Poker Tour znovu udeřil.
V high roller eventu Eureky s buy-inem €2.200, ve kterém pořadatelé zaznamenali výborných 430 registrací, se Ján Bendík probojoval až do závěrečného heads-upu proti Davidu "dpeters17" Petersovi.
Se členem profesionálního týmu Ivey Poker se následně domluvil na rovném chopu, jenž každému z hráčů vynesl €131.000.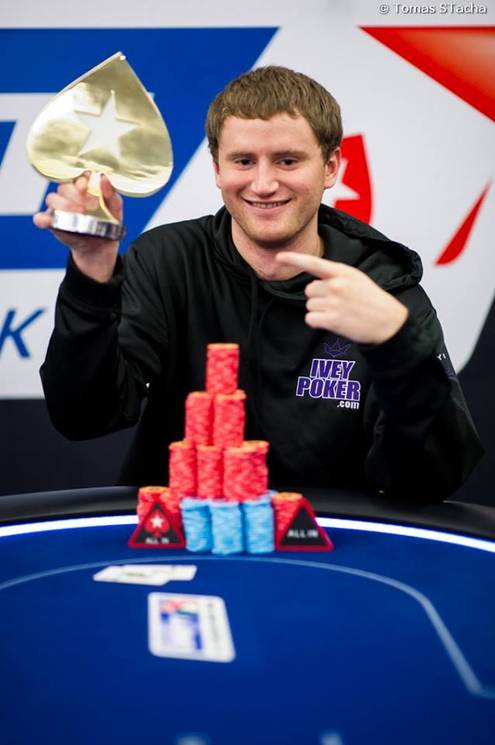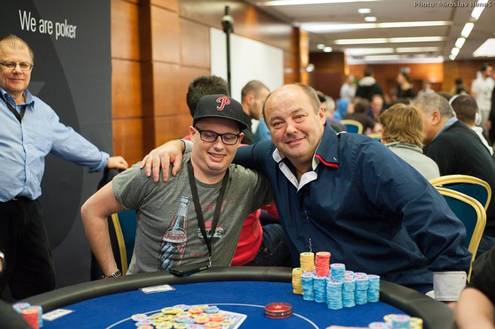 Kompletní seznam postupujících ze dne 1a
| Name | Country | Status | Chips |
| --- | --- | --- | --- |
| Tiberu-Florian Georgescu | Romania | | 191,100 |
| Ari Engel | USA | PokerStars player | 172,800 |
| Ronny Voth | Germany | Live Satellite | 166,400 |
| Joao Simao | Brazil | PokerStars qualifier | 163,100 |
| Sebastian Saffari | UK | PokerStars qualifier | 162,000 |
| Simon Mattsson | Sweden | PokerStars qualifier | 161,400 |
| Lucas Reeves | UK | PokerStars player | 140,800 |
| Jose Carlos Garcia | Poland | PokerStars qualifier | 138,500 |
| Dominguez Pardo | Spain | PokerStars qualifier | 130,000 |
| Vinicius Barrel Teles | Brazil | PokerStars qualifier | 121,500 |
| Roman Korenev | Russia | PokerStars player | 120,100 |
| Jan-Eric Schwippert | Germany | PokerStars player | 118,100 |
| Karel Kratochvil | Czech Republic | PokerStars qualifier | 116,900 |
| Ivan Glushkov | Russia | | 116,800 |
| Konstantin Streletskiy | Russia | | 116,600 |
| Miklos Zsuffa | Hungary | PokerStars qualifier | 115,700 |
| Anaras Alekberovas | Lithuania | | 115,600 |
| Paolo Compagno | Switzerland | PokerStars qualifier | 111,800 |
| Morten Klein | Norway | | 110,100 |
| Rui Sousa | Portugal | PokerStars qualifier | 106,400 |
| Tapio Vihakas | Finland | PokerStars qualifier | 105,500 |
| Jonathan Little | USA | | 104,200 |
| Panicos Ellinas | UK | PokerStars qualifier | 100,800 |
| Jan Ramik | Czech Republic | | 100,700 |
| Anders Rasmussen | Denmark | | 99,500 |
| Jannick Wrang | Denmark | PokerStars qualifier | 97,700 |
| Darren Elias | USA | PokerStars player | 97,200 |
| Sebastian Mueller | Germany | PokerStars qualifier | 96,800 |
| Adrian Piasecki | Poland | PokerStars qualifier | 95,700 |
| Jesper Winzerling | Sweden | Live Satellite | 93,000 |
| Steven van Zadelhoff | Netherlands | PokerStars qualifier | 92,000 |
| Walid Bou Habib | Lebanon | PokerStars qualifier | 91,300 |
| James Gilbert | USA | PokerStars qualifier | 90,500 |
| Bertilsson Per Anton | Sweden | | 90,300 |
| Rudi Johnsen | Norway | PokerStars qualifier | 90,200 |
| Radek Stockner | Czech Republic | | 90,000 |
| Ivan Tikhov | Russia | PokerStars player | 89,900 |
| Kataev Katayev | Russia | PokerStars player | 88,600 |
| Peter Siemund | Germany | | 87,200 |
| Max Silver | UK | PokerStars player | 87,100 |
| Chady El Ojeil | Lebanon | | 86,800 |
| Robert Auer | Germany | PokerStars qualifier | 86,200 |
| Oleh Okhotskyi | Ukraine | | 82,400 |
| Nandor Solyom | Romania | Live Satellite | 81,700 |
| Scott Augustine | Czech Republic | | 81,600 |
| Sergio Aido | Spain | PokerStars qualifier | 81,200 |
| Eetu Parpala | Finland | PokerStars qualifier | 79,200 |
| Adrian Mateos Diaz | Spain | PokerStars qualifier | 79,100 |
| Abdessamade El Mzdadi | France | | 77,500 |
| Aivaras Bardauskas | Lithuania | PokerStars qualifier | 77,300 |
| Frei Dilling | Denmark | | 77,300 |
| Ramil Boyazitov | Russia | | 77,200 |
| Mateusz Zbikowski | UK | PokerStars qualifier | 76,900 |
| Alexander Lakhov | Russia | PokerStars player | 76,800 |
| Marcelo da Fonseca | Brazil | PokerStars qualifier | 74,000 |
| Przemyslaw Misztela | Poland | PokerStars qualifier | 73,400 |
| Henrique Pinho | Portugal | PokerStars player | 73,000 |
| Joshua Hunt | UK | PokerStars qualifier | 72,900 |
| Olivier Busquet | USA | PokerStars player | 72,000 |
| Michael Tureniec | Sweden | PokerStars player | 70,300 |
| Benjamin Pollak | France | | 70,300 |
| Michel Dattani | Portugal | PokerStars player | 69,300 |
| Hugo Felix | Portugal | PokerStars qualifier | 67,200 |
| Kent Lundmark | Sweden | PokerStars qualifier | 67,100 |
| Patrick Serda | Canada | PokerStars qualifier | 66,600 |
| Georgios Sotiropoulos | Greece | PokerStars qualifier | 66,200 |
| Albert Mykhaylyuta | Ukraine | | 64,800 |
| Marc Trijaud | France | Live Satellite | 64,700 |
| Armin Zoike | Germany | PokerStars player | 64,200 |
| Zsolt Pentek | Hungary | Live Satellite | 63,800 |
| Tomasz Kowalski | Poland | | 63,500 |
| Marius Maciukas | Lithuania | PokerStars qualifier | 63,100 |
| Thomas Hall | UK | PokerStars qualifier | 63,100 |
| Andrew Hulme | UK | PokerStars player | 63,000 |
| Massimo Di Cicco | Italy | Live Satellite | 61,800 |
| Andreas Vlachos | Greece | Live Satellite | 61,500 |
| Benjamin Juhasz | Hungary | PokerStars qualifier | 61,400 |
| Apostolos Bechrakis | Greece | PokerStars qualifier | 60,700 |
| Jason Wheeler | USA | PokerStars qualifier | 60,500 |
| Sven Krieger | Germany | | 60,400 |
| Steve O`Dwyer | Ireland | PokerStars qualifier | 60,200 |
| Simon Fuller | UK | | 59,800 |
| Simon Cuq | French | | 59,400 |
| Simon Ravnsbaek | Denmark | PokerStars qualifier | 59,200 |
| Marcin Wydrowski | Poland | PokerStars qualifier | 58,500 |
| Grzegorz Wyraz | Poland | PokerStars qualifier | 57,500 |
| Marcello Miniucchi | Italy | | 56,600 |
| Robbie Bull | UK | PokerStars player | 56,300 |
| Ben Martin | UK | PokerStars qualifier | 55,900 |
| Andre Goldbaum Lichtenshtein | Brazil | | 55,800 |
| Vit Blachut | Czech Republic | | 55,700 |
| Jiachen Gong | Canada | PokerStars qualifier | 55,100 |
| Timothy Ulmer | Canada | PokerStars qualifier | 55,000 |
| Alfio Battisti | Italy | PokerStars player | 54,800 |
| Mikhail Marchenko | Russia | PokerStars qualifier | 53,500 |
| Thomas Pettersson | Sweden | PokerStars qualifier | 52,600 |
| Aleksandr Gofman | Russia | PokerStars qualifier | 51,700 |
| Petr Jelinek | Czech Republic | PokerStars qualifier | 51,400 |
| Aku Joentausta | Finland | PokerStars player | 50,700 |
| Seredyuk Sergiy | Ukraine | Live Satellite | 49,500 |
| Jakob Karlsson | Sweden | PokerStars player | 49,200 |
| Sal Al Fakih | Lebanon | | 48,700 |
| Gaetano Dell`Aera | Belgium | | 47,300 |
| Emil Mattsson | Sweden | PokerStars qualifier | 46,800 |
| Hall Ryan | Canada | PokerStars player | 46,700 |
| Myro Garcia | Brazil | PokerStars player | 45,600 |
| Arman Nugmanov | Kazakhstan | | 45,200 |
| Toby Lewis | UK | PokerStars player | 44,900 |
| James Hoeppner | USA | | 44,200 |
| Martin Prager | Denmark | PokerStars qualifier | 44,000 |
| Marinko Skoric | Bosnia and Herzegovina | Live Satellite | 43,200 |
| Konstantin Tolokno | Russia | | 43,200 |
| Vazha Kometiani | Georgia | Live Satellite | 43,000 |
| Jeff Sarwer | Finland | PokerStars player | 42,800 |
| Rhys Jones | UK | PokerStars qualifier | 42,600 |
| Davide Suriano | Italy | | 42,300 |
| Mario Adinolfi | Italy | | 41,900 |
| Scott Margereson | UK | PokerStars qualifier | 41,200 |
| Thomas Dolezal | Austria | Live Satellite | 40,800 |
| Tomas Samol | Slovakia | PokerStars qualifier | 40,600 |
| David Boyaciyan | Netherlands | | 40,500 |
| Shannon Shorr | USA | PokerStars player | 40,400 |
| Radu Catoiu | Romania | PokerStars qualifier | 40,300 |
| Boris Scepanovic | Montenegro | PokerStars qualifier | 40,000 |
| Boutros Naim | Lebanon | PokerStars qualifier | 39,800 |
| Kharis Kamaletdinov | Russia | | 39,800 |
| Denis Kipnis | Russia | PokerStars qualifier | 39,500 |
| Zoltan Tibor Szabo | Hungary | | 39,200 |
| Olli Mikael Rundgren | Finland | Live Satellite | 38,600 |
| Tigran Yazychyan | Russia | | 38,300 |
| Konstantin Maslak | Russia | PokerStars qualifier | 37,800 |
| Craig Mccorkell | UK | PokerStars qualifier | 37,500 |
| Dominik Panka | Poland | PokerStars qualifier | 37,300 |
| Dimitrios Kalaroutis | Greece | PokerStars qualifier | 37,100 |
| Iaroslav Boiko | Ukraine | | 37,000 |
| Arsenii Karmatckii | Russia | PokerStars qualifier | 36,900 |
| Stefan Jedlicka | Austria | PokerStars player | 36,800 |
| Manfred Sierke | Germany | PokerStars qualifier | 36,700 |
| Victor Wessman | Sweden | PokerStars qualifier | 35,700 |
| Douglas Souza | Brazil | PokerStars qualifier | 35,200 |
| Vladimir Malak | Czech Republic | | 35,200 |
| Desislav Velikov | Bulgaria | | 34,500 |
| Juha Helppi | Finland | | 34,400 |
| Reza Doomun | Switzerland | | 33,600 |
| Georgios Zisimopoulos | Greece | PokerStars qualifier | 33,200 |
| Tobias Peters | Netherlands | Live Satellite | 33,000 |
| Sam Chartier | Canada | PokerStars qualifier | 32,200 |
| Julien Jean-Paul Brulet | Belgium | PokerStars qualifier | 32,100 |
| Krzysztof Dulowski | Poland | Live Satellite | 31,800 |
| Aleksis Tsaousidis | Greece | PokerStars qualifier | 31,600 |
| Marcus Theodorus Van Opzeeland | Spain | | 31,200 |
| Ondrej Kopecky | Czech Republic | PokerStars qualifier | 30,900 |
| Lauri Pesonen | Finland | PokerStars qualifier | 30,600 |
| Erik Scheidt | Germany | PokerStars qualifier | 30,300 |
| Grigory Pakhomov | Russia | | 29,300 |
| Artem Metalidi | Ukraine | PokerStars qualifier | 28,700 |
| Georgi Bekyarov | Bulgaria | PokerStars qualifier | 27,000 |
| Elpidio Cepparulo | Italy | Live Satellite | 26,700 |
| Akin Tuna | Germany | | 26,100 |
| Sergey Lebedev | Russia | PokerStars player | 26,000 |
| Waldemar Essig | Germany | PokerStars qualifier | 26,000 |
| Thanh Hai Pham | Viet Nam | PokerStars qualifier | 25,800 |
| Sebastian Langrock | Germany | | 25,800 |
| Alex Klimashin | Russia | PokerStars qualifier | 25,100 |
| Vojtech Ruzicka | Czech Republic | PokerStars qualifier | 25,100 |
| Florian Kossler | Germany | PokerStars player | 25,000 |
| Ramzi Jelassi | Sweden | PokerStars player | 24,600 |
| Oleksii Kovalchuk | Ukraine | | 24,600 |
| Aleksandr Suvalov | Russia | | 24,500 |
| Marc Daubach | UK | PokerStars qualifier | 24,400 |
| Janous Vladimir | Czech Republic | PokerStars qualifier | 23,400 |
| Ryan Franklin | USA | PokerStars qualifier | 23,100 |
| Michael Bech Lundsgaard | Denmark | PokerStars player | 23,000 |
| Ugnius Simelionis | Lithuania | Live Satellite | 22,400 |
| Andreas Berggren | Sweden | PokerStars qualifier | 22,300 |
| Hani EL Assaad | Lebanon | PokerStars qualifier | 22,200 |
| Tomas Fucik | Czech Republic | PokerStars qualifier | 22,100 |
| Kevin Iacofano | UK | PokerStars qualifier | 21,000 |
| Kory Kilpatrick | USA | PokerStars player | 20,400 |
| Nichlas Mattsson | Sweden | PokerStars player | 19,900 |
| Andreas Chalkiadakis | Greece | PokerStars qualifier | 18,900 |
| Peter Charalambous | UK | | 18,700 |
| Viatcheslav Ortynskiy | Russia | PokerStars player | 18,400 |
| Vishal Pundjabi | Germany | | 18,400 |
| Bassel Moussa | Lebanon | | 18,400 |
| Igor Yaroshevskyy | Ukraine | PokerStars player | 18,200 |
| Michal Polchlopek | Poland | PokerStars player | 18,000 |
| Mathew Frankland | UK | PokerStars qualifier | 17,800 |
| Philippe Ktorza | France | | 17,800 |
| Gunter Fortkord | Germany | Live Satellite | 17,200 |
| Robert Schulz | Germany | | 17,100 |
| Ronan Monfort | France | PokerStars qualifier | 16,500 |
| Jyri Merivirta | Finland | PokerStars qualifier | 16,100 |
| Jonathan Duhamel | Canada | Team PokerStars Pro | 16,100 |
| Matej Marinovic | Croatia | PokerStars player | 15,900 |
| Robert Haigh | Germany | PokerStars player | 15,900 |
| Mariusz Klosinski | Poland | | 15,300 |
| Martin Monrad Pedersen | Denmark | | 14,400 |
| Ramin Hajiyev | Azerbaijan | | 13,600 |
| Liutauras Armanavicius | Lithuania | PokerStars qualifier | 13,300 |
| Vineet Pahuja | Canada | PokerStars player | 12,800 |
| Viktor Makeev | Spain | | 12,500 |
| Pascal Vos | Netherlands | PokerStars player | 11,300 |
| Anton Krishchenko | Russia | PokerStars qualifier | 10,700 |
| Martin Stausholm | Denmark | PokerStars player | 10,400 |
| Markus Masiak | Germany | Live Satellite | 10,300 |
| Zoltan Purak | Austria | PokerStars qualifier | 9,400 |
| Cengiz Can Ulusu | Turkey | | 8,000 |
| Erik Olofsson | Sweden | PokerStars player | 7,700 |
| Emin Aghayev | Monaco | | 6,500 |
EPT Prague 1B
Datum
13.12.2013
Místo
Hilton Prague
Buy-in
€5.300
Typ
Freeze-out
Starting stack
30.000
Start blinds
50/100
Kapacita
-
Změna blindů
75 min
Prize pool
-
První místo
-
Počet hráčů
-