Kompletní chipcounty
| Name | Country | Status | Chips |
| --- | --- | --- | --- |
| Walid Bou Habib | Lebanon | PokerStars qualifier | 509,000 |
| Jonathan Little | USA | | 471,000 |
| Ka Kwan Lau | Spain | PokerStars player | 440,000 |
| Szabolcs Mayer | Hungary | | 428,200 |
| Julian Track | Germany | PokerStars qualifier | 428,000 |
| Sebastian Saffari | UK | PokerStars qualifier | 428,000 |
| Amir Lehavot | USA | PokerStars player | 427,000 |
| Ihar Koshal | Belarus | PokerStars qualifier | 417,000 |
| Sergey Baburin | Russia | PokerStars player | 413,000 |
| Artem Romanov | Russia | | 399,700 |
| Nihat Karyagdi | Romania | PokerStars qualifier | 385,300 |
| Dmitry Ponomarev | Russia | | 382,000 |
| Kevin Iacofano | UK | PokerStars qualifier | 380,600 |
| Andrea Benelli | Italy | | 363,500 |
| Ilan Suloman | Israel | | 363,000 |
| Christian Golob | Austria | | 337,000 |
| Tapio Vihakas | Finland | PokerStars qualifier | 322,000 |
| Adrian Mateos Diaz | Spain | PokerStars qualifier | 320,800 |
| Ana Marquez | Spain | PokerStars qualifier | 319,400 |
| Lucas Reeves | UK | PokerStars player | 307,400 |
| Adrian Piasecki | Poland | PokerStars qualifier | 306,100 |
| Nicolai Kramer | Germany | PokerStars player | 304,700 |
| Sigurd Andreas Eskeland | Norway | PokerStars qualifier | 303,200 |
| Valentino Yasenov Konakchiev | Bulgaria | PokerStars qualifier | 283,600 |
| Dmytko Samoilenko | Ukraine | Live Satellite | 280,000 |
| Dario Sammartino | Italy | | 278,100 |
| Tiberu-Florian Georgescu | Romania | | 274,000 |
| Jan Sjavik | Norway | PokerStars player | 269,400 |
| Erwann Pecheux | France | | 269,000 |
| Max Silver | UK | PokerStars player | 259,500 |
| Nikita Nikolaev | Russia | PokerStars qualifier | 247,300 |
| Morten Klein | Norway | | 245,400 |
| Marius Heiene | Sweden | PokerStars player | 243,900 |
| Ludovic Lacay | France | | 242,800 |
| Ari Engel | USA | PokerStars player | 240,300 |
| Jesper Winzerling | Sweden | Live Satellite | 236,200 |
| Darie Vlad | Romania | PokerStars player | 232,100 |
| Bertrand "Elky" Grospellier | France | Team PokerStars Pro | 230,200 |
| Scott Margereson | UK | PokerStars qualifier | 229,600 |
| Zdravko Duvnjak | Netherlands | PokerStars player | 226,900 |
| Darren Elias | USA | PokerStars player | 224,100 |
| Oleh Okhotskyi | Ukraine | | 220,300 |
| Kirill Shugai | Russia | PokerStars qualifier | 217,600 |
| Tobias Garp | Sweden | PokerStars player | 212,900 |
| Bertilsson Per Anton | Sweden | | 212,000 |
| Kitty Kuo | China | PokerStars qualifier | 209,200 |
| Eetu Parpala | Finland | PokerStars qualifier | 206,000 |
| Andrey Volkov | Russia | | 204,000 |
| Dmitri Holdeew | Germany | PokerStars player | 201,600 |
| Georgios Sotiropoulos | Greece | PokerStars qualifier | 201,600 |
| Mateusz Zbikowski | UK | PokerStars qualifier | 201,100 |
| Hugo Felix | Portugal | PokerStars qualifier | 200,900 |
| Lasell King | Germany | | 196,600 |
| Ihar Soika | Belarus | PokerStars qualifier | 196,000 |
| Marc Macdonnell | Ireland | PokerStars player | 194,200 |
| Rudi Johnsen | Norway | PokerStars qualifier | 193,200 |
| Stephen Chidwick | UK | PokerStars qualifier | 192,500 |
| Simon Deadman | UK | PokerStars player | 190,200 |
| Artem Metalidi | Ukraine | PokerStars qualifier | 184,100 |
| Sotirios Koutoupas | Greece | | 182,200 |
| Florian Krumpt | Germany | PokerStars qualifier | 172,400 |
| Tom Alner | UK | | 171,700 |
| Yury Gulyy | Russia | | 170,600 |
| Jorma Nuutinen | Finland | PokerStars player | 170,000 |
| Thomas Pedersen | Denmark | | 168,400 |
| Simon Mattsson | Sweden | PokerStars qualifier | 163,000 |
| Anders Rasmussen | Denmark | | 163,000 |
| Denis Pisarev | Russia | PokerStars qualifier | 162,100 |
| Emmanuel Francois Murcia | Belgium | | 160,800 |
| Dmitry Vitkind | Russia | PokerStars qualifier | 160,000 |
| Marcello Miniucchi | Italy | | 156,800 |
| Alexander Lakhov | Russia | PokerStars player | 156,600 |
| Benjamin Pollak | France | | 152,500 |
| Henrique Pinho | Portugal | PokerStars player | 151,500 |
| Julien Jean-Paul Brulet | Belgium | PokerStars qualifier | 151,500 |
| Romain Chauvassagne | France | Live Satellite | 149,400 |
| Martin Balaz | Czech Republic | PokerStars player | 149,200 |
| Tomasz Kowalski | Poland | | 147,700 |
| Ciaran Burke | Ireland | PokerStars qualifier | 147,000 |
| Victor Sheerman | Russia | | 145,700 |
| Peter Siemund | Germany | | 145,100 |
| Radek Stockner | Czech Republic | | 143,900 |
| Liutauras Armanavicius | Lithuania | PokerStars qualifier | 141,200 |
| Alex Bilokur | Russia | PokerStars player | 139,000 |
| Moshe Elazar | Israel | PokerStars player | 138,400 |
| Piotr Robert Pietrzak | Poland | PokerStars player | 138,200 |
| Ori Hasson | Israel | PokerStars qualifier | 138,000 |
| Andrey Grenko | Russia | | 136,400 |
| Taylor Von Kriegenbergh | USA | PokerStars qualifier | 136,000 |
| Roman Korenev | Russia | PokerStars player | 134,800 |
| Sebastian Langrock | Germany | | 134,300 |
| Martin Wiklund | Sweden | PokerStars qualifier | 134,000 |
| Dany Parlafes | Romania | Live Satellite | 132,100 |
| Sam Chartier | Canada | PokerStars qualifier | 131,000 |
| Marcelo da Fonseca | Brazil | PokerStars qualifier | 129,900 |
| Frei Dilling | Denmark | | 127,200 |
| Mariusz Klosinski | Poland | | 126,200 |
| Marco Leonzio | Italy | | 124,700 |
| Aliaksandr Posled | Russia | Live Satellite | 124,600 |
| Jan-Eric Schwippert | Germany | PokerStars player | 124,600 |
| Denys Drobyna | Ukraine | PokerStars player | 123,400 |
| Bolivar Palacios | Panama | PokerStars player | 122,000 |
| Apostolos Bechrakis | Greece | PokerStars qualifier | 121,800 |
| Christian Grundtvig | Denmark | | 121,100 |
| Andrew Chen | Canada | Live Satellite | 120,600 |
| Stefan Vagner | Slovakia | | 120,000 |
| Marcin Wydrowski | Poland | PokerStars qualifier | 119,300 |
| Panicos Ellinas | UK | PokerStars qualifier | 118,400 |
| Igor Yaroshevskyy | Ukraine | PokerStars player | 118,300 |
| Mikhail Shevchuk | Russia | Live Satellite | 118,000 |
| Dimitrios Kalaroutis | Greece | PokerStars qualifier | 117,500 |
| Radu Catoiu | Romania | PokerStars qualifier | 116,200 |
| Bejjani Kamal | Lebanon | | 114,500 |
| Ole Schemion | Germany | PokerStars qualifier | 112,600 |
| Stefan Kolossow | Germany | PokerStars player | 112,400 |
| Joao Simao | Brazil | PokerStars qualifier | 112,200 |
| Stefan Ivanov | Bulgaria | PokerStars qualifier | 111,700 |
| Jannick Wrang | Denmark | PokerStars qualifier | 110,200 |
| Andrii Nadieliaiev | Ukraine | | 109,700 |
| Aleksey Ponakov | Latvia | PokerStars player | 108,700 |
| Jonathan Duhamel | Canada | Team PokerStars Pro | 108,000 |
| Vadim Belov | Russia | PokerStars qualifier | 107,100 |
| Ivan Soshnikov | Russia | PokerStars qualifier | 106,200 |
| Simon Cuq | French | | 106,100 |
| Eugene Katchalov | Ukraine | Team PokerStars Pro | 104,900 |
| Mikhail Marchenko | Russia | PokerStars qualifier | 104,700 |
| Cezar Oprea | Romania | Live Satellite | 102,100 |
| Joe Laming | UK | | 99,900 |
| Gaik Karabakhtcian | Russia | | 99,500 |
| Vitaly Lunkin | Russia | | 96,400 |
| Robert Schulz | Germany | | 95,400 |
| Murad Akhundov | Azerbaijan | | 93,000 |
| Sylvain Loosli | France | | 92,500 |
| Karel Kratochvil | Czech Republic | PokerStars qualifier | 92,400 |
| Franz-Josef Breuer | Germany | PokerStars qualifier | 90,800 |
| David Williams | USA | Team PokerStars Pro | 89,200 |
| Ivan Tikhov | Russia | PokerStars player | 88,200 |
| Thomas Hall | UK | PokerStars qualifier | 88,100 |
| Andre Goldbaum Lichtenshtein | Brazil | | 88,000 |
| Przemyslaw Misztela | Poland | PokerStars qualifier | 87,500 |
| Paolo Compagno | Switzerland | PokerStars qualifier | 87,400 |
| Jonathan Roy | Canada | | 86,900 |
| Hugh Drummond | Canada | PokerStars player | 86,300 |
| Marinko Skoric | Bosnia and Herzegovina | Live Satellite | 86,200 |
| Dermot Blain | Ireland | PokerStars player | 84,100 |
| Sven Krieger | Germany | | 84,100 |
| Inigo Rodriguez | Spain | PokerStars qualifier | 82,500 |
| Antonio Lafosse | Peru | | 79,000 |
| Rui Sousa | Portugal | PokerStars qualifier | 76,700 |
| Matthew Haugen | USA | | 75,100 |
| Gwendal Montiton | France | Live Satellite | 74,900 |
| Bela Toth | Hungary | PokerStars qualifier | 70,000 |
| Simon Harig | Australia | PokerStars player | 69,600 |
| Filippo Lazzaretto | Italy | Live Satellite | 68,500 |
| Marc-Andre Ladouceur | Canada | PokerStars Team Online | 68,200 |
| Dominik Nitsche | Germany | PokerStars qualifier | 68,100 |
| Apostolos Chatzopoulos | Germany | Live Satellite | 68,000 |
| Timothy Ulmer | Canada | PokerStars qualifier | 68,000 |
| Ben Martin | UK | PokerStars qualifier | 66,100 |
| Viatcheslav Ortynskiy | Russia | PokerStars player | 62,800 |
| Robert Auer | Germany | PokerStars qualifier | 62,700 |
| Paul Volpe | USA | PokerStars qualifier | 61,300 |
| Milan Joksic | Austria | | 61,200 |
| Georgii Bandura | Russia | | 61,100 |
| Pasquale Braco | Italy | Live Satellite | 59,500 |
| Lars Anders Dahlin | Sweden | | 58,900 |
| Charles Chaya | Canada | PokerStars qualifier | 56,900 |
| Jan Ramik | Czech Republic | | 55,900 |
| Michel Dattani | Portugal | PokerStars player | 51,500 |
| Jose Carlos Garcia | Poland | PokerStars qualifier | 51,500 |
| Andreas Berggren | Sweden | PokerStars qualifier | 51,100 |
| Thomas Muhlocker | Germany | PokerStars qualifier | 50,600 |
| Sam Cohen | USA | | 50,600 |
| Boutros Naim | Lebanon | PokerStars qualifier | 48,700 |
| Bernard Lattouf | Lebanon | Live Satellite | 46,500 |
| Niclas Svensson | Sweden | PokerStars qualifier | 45,900 |
| Vit Blachut | Czech Republic | | 45,600 |
| Thor Drexel | Denmark | PokerStars player | 44,800 |
| Siarhei Sharkota | Belarus | | 43,100 |
| Grigory Pakhomov | Russia | | 42,700 |
| Thomas Mercier | Belgium | | 41,500 |
| Micha Hoedemaker | Netherlands | PokerStars player | 39,500 |
| Martin Staszko | Czech Republic | | 36,100 |
| Tamer Kamel | UK | PokerStars qualifier | 35,500 |
| Adrian Veghinas | Romania | Live Satellite | 33,200 |
| Victor Podofedenko | Russia | PokerStars player | 31,200 |
| Igor Izmaylov | Russia | | 31,200 |
| Dominguez Pardo | Spain | PokerStars qualifier | 31,000 |
| Erik Scheidt | Germany | PokerStars qualifier | 27,800 |
Poslední známé chipcounty
Martin Baláž - 149.000
Radek Stockner - 140.000
Karel Kratochvíl - 90.000
Jan Ramík - 55.000
Vít Blachut - 50.000
Martin Staszko - 40.000
Den 2 směřuje ke svému konci
Na řadě je tradiční procedura, tedy zastavení hodin a vyhlášení posledních několika hand dne - dnes čtyř.
Chipcounty
Martin Baláž - 148.000
Radek Stockner - 100.000
Karel Kratochvíl - 87.000
Jan Ramík - 58.000
Vít Blachut - 55.000
Martin Staszko - 38.000
Radek Stocker se pomalu zvedá
"Nejdřív jsem vytočil J-J do áček, tím jsem se dostal na 67.000 a pak vyhrál tři menší hry," říká Stockner, který nyní hraje se 110.000.
Blížíme se do závěru
Začíná poslední level dnešního dne. Blindy 1.200/2.400/a300, avg. stack 129.102, zbývá 234 hráčů.
Národnostní složení v Main Eventu EPT Prague 2013
TOP 10 vypadá následovně:
1. Rusko - 127 (13%)

2. Německo - 104 (10%)

3. Velká Británie - 66 (7%)

4. USA - 51 (5%)

5. Francie - 48 (5%)

6. Itálie - 47 (5%)

7. Švédsko - 35 (3%)

8. Česká republika - 34 (3%)

9. Rumunsko - 34 (3%)

10. Kanada - 32 (3%)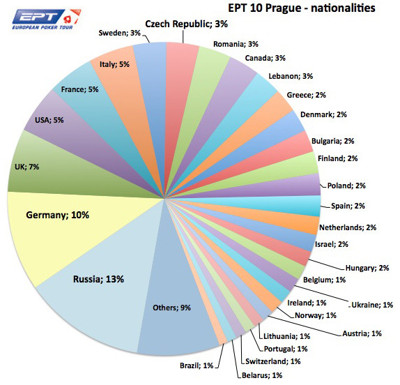 Výplatní struktura
Prize pool ve výši €4.883.950 si mezi sebe 151 nejúspěšnějších hráčů rozdělí následujícím způsobem:
1. €889.000
2. €536.700
3. €378.000
4. €283.800
5. €218.300
6. €160.200
7. €118.200
8. €84.600
9. €66.050
10 - 11. €54.900
12 - 13. €49.200
14 - 15. €44.300
16 - 17. €39.400
18 - 19. €34.500
20 - 23. €29.600
24 - 27. €24.900
28 - 31. €21.200
32 - 39. €18.400
40 - 55. €15.600
56 - 71. €13.200
72 - 95. €11.100
96 - 119. €9.900
120 - 143. €9.000
144 - 151. €8.600
Josef Antoš končí
Předposlední level druhého dne nepřežil Josef Antoš.
Brněnský hráč nejprve ztratil velkou část stacku v handě, kterou zahájil open raisem z UTG a našel zájemce v obou soupeřích na blindech. Na flopu 8 , 6 , K small blind vsadil 5.000, big blind foldnul a Antoš dorovnal.
Na turnu A Antoš dorovnával 10.000 a callnul i dvacetitisícový bet na riveru 2 . Naneštěstí se trefil do setu osmiček.
Zbylých 12 blindů 3bet shovenul s K-Q a nevytočil do A-K.
První info o výplatní struktuře
€889.000 (1,22 milionů dolarů, 24,5 milionů korun) pro nového šampiona European Poker Tour, 151 vyplácených příček. Více informací bude následovat...
Vít Blachut ztrácí žetony ve velké hře
Hráč na UTG+2 otevřel částkou 4.500, cutoff 3betnul 13.000 a dalším hráčem, který do dění v handě výrazně promluvil, byl Čech Vít Blachut. Ten z malého blindu cold 4betnul 28.000. Opener okamžitě zahodil, druhý ze soupeřů callnul.
Po rozdání flopu A , 10 , 4 si Blachut dlouho odpočítával žetony a nakonec z toho vznikla sázka 18.000. Cutoff před sebe okamžitě na znamení all-inu posunul vysoký komín modrých žetonů a Blachut stál před rozhodnutím, zda za svých 75.000 dorovnat.
Po šestiminutovém dumání zahodil.
Vít Blachut - 75.000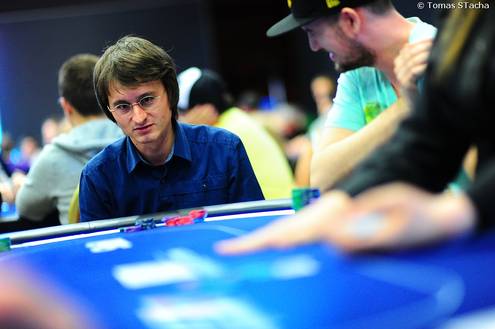 Blindy 1.000/2.000/a300, avg. stack 108.065, zbývá 279 hráčů.
Dalším vyřazeným Čechem je Lukáš Hnízdo
Tak jsem to zakřikl a cestičkou hanby si ve foyer prošel i Lukáš Hnízdo.
"Nevytočil jsem 105k pot s KK do AQ. Zbylo mi ještě patnáct tisíc a pak se trefil s devítkama do es," kroutí hlavou při vzpomínce na sled událostí vedoucích k jeho vyřazení.
Balážův cold 4bet do Lacaye
David Williams otevřel z UTG na 3.600, Ludovic Lacay mu dal z cutoffu 3bet 9.000 a akce se přesunula na button, kde operoval český grinder Martin Baláž. Po krátké úvaze se rozhodl pro cold 4bet na 16.200.
Williams snap/foldnul a Lacay po dvouminutovém staredownu také.
Balážův stůl stále nevypadá vůbec příjemně. Kromě Williamse, Vamplewa a Lacaye na něm hraje také Sylvain Loosli.
Martin Baláž - 65.000
Lukáš Hnízdo stále v turnaji
Přežívat se stále daří Lukáši Hnízdovi, který se zdvojnásobil v preflop all-inu s J-J do Q-T. Stalo se tomu tak v situaci, kdy do open raisu 3.200 a 3betu 7.000 poslal posledních 15.200 a dostal call od 3bettora.
Posléze se mu povedlo vyhrát sérii menších her a nyní tak má 60.000.
U stolu se potkal se Slovákem Štefanem Vágnerem (65k) a mladým šampionem letošní WSOP Europe Adrianem Mateosem Diasem.
Kratochvílův odhoz
"Prohrál jsem esa do desítek, 70k pot. Pak ještě postflop nějak QQ do J7," vysvětluje czlol svůj propad na aktuálních 132.000.
Martin Baláž double up
"UTG otevřel s K , 10 , já jsem mu dal s dvacetiblindovým stackem z cutoffu 3bet s A-6o, on call. Flop A-6-J se dvěma clubama a stackoffnuli jsme se až na spadový osmičce na turnu - on betnul, já mu shovenul. River blank."
Martin Baláž - 51.000
Blindy 800/1.600/a200, avg. stack 95.904, zbývá 315 hráčů.
U Jellyho a Daga ne
Petr Jelínek se za posledních 25bb preflop stackoffnul s J-J do K-K, což ho stálo turnajový život. Jiným aktivitám se už může věnovat také Dag Palovič.
U Karla dobrý
"Támhle pán na jedničce otevřel 2.400 na můj big blind a já jsem mu dal 3bet 6.200 s A-3 off. Call. Na flopu J-J-4 s flush draw dávám 5.100, call. Na turn jde desítka, já čekám, on betuje 8.500 a já c/raisuju na 18.500. Brečí a zahazuje. Ukazuju tu trojku, brečí podruhý," popisuje mi Karel Kratochvíl svoji nejzajímavější handu tohoto levelu.
Aktuálně má ~155.000 v žetonech.
Jan Sušický vyřazen
Hráč na MP otevřel 2.500, Jan Sušický callnul na big blindu a poté se na flopu 10 , 7 , 2 rozhodnul do soupeřova 3,2tisícového cbetu check/shovenout 15.600. Call.
Sušický: J , 9
Soupeř: A , A
Turn J , river 7 .
Chipcounty přeživších Čechů
| Jméno | Chipcount |
| --- | --- |
| Karel Kratochvíl | 120.000 |
| Vít Blachut | 107.000 |
| Jan Ramík | 84.000 |
| Dag Palovič | 75.000 |
| Josef Antoš | 75.000 |
| Martin Staszko | 60.000 |
| Radek Stockner | 55.000 |
| Petr Jelínek | 35.000 |
| Martin Baláž | 35.000 |
| Tomáš Fučík | 29.000 |
| Lukáš Hnízdo | 20.000 |
| Jan Sušický | 18.000 |
Blindy se mění na 600/1.200/a200, avg. stack je 74.592 a zbývá 405 hráčů.
Josef Antoš stoupá na average stack
Josef Antoš otevřel z buttonu a Antonio Lafosse zadefendoval big blind.
Na flopu 7 , 6 , K Lafosse checknul, Antoš cbetnul 2.500 a mladík z Peru po chvíli c/raisnul na 7.000. Antoš dorovnal a na turn se otočila 2 . Lafosse betnul 13.000, Antoš dorovnal.
Na riveru 10 už se pouze checkovalo.
Lafosse: 9 , 5
Antoš: K , 4
"No, ale nevim, co bych dělal, kdyby mi shovenul river. To bych se asi po****," směje se Antoš po handě. Nyní má 76.000 při avg. stacku 74.952.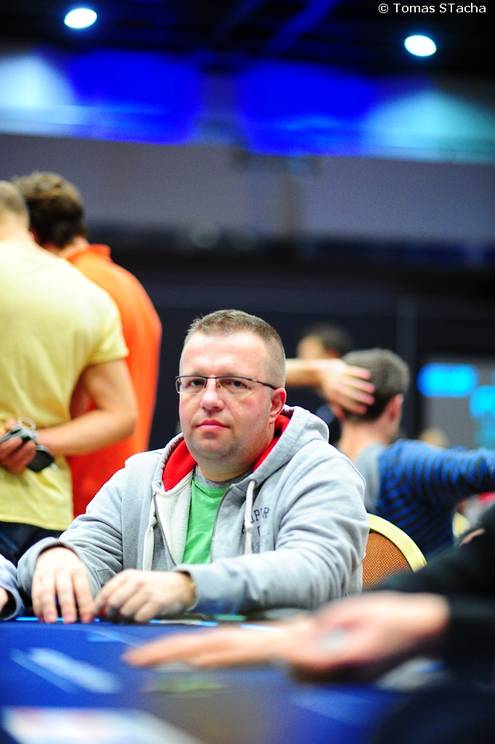 Registrace uzavřeny, známe oficiální čísla
Rekordního podniku EPT Prague se v letošním roce zúčastnilo 1.007 unikátních hráčů, tedy o 143 více, než vloni!
Na výplatní struktuře nyní pořadatelé pracují.
A ještě vývoj hráčské účasti od roku 2010, o který se na Twitteru podělil Rich Ryan, redaktor Pokernews.com:
.@PokerStarsEPT Prague Main Event entrants since 2010: 563, 722 (+28%), 864 (+20%), 1,007 (+17%).

— Rich Ryan (@RichTRyan) December 14, 2013
Martin Baláž double up
Ioannis Fronimakis otevřel z UTG s 3 , 3 a Martin Baláž uz UTG+1 shipnul svých zbývajících 13 big blindů s 10 , 10 . Řecký hráč dorovnal a na boardu naštěstí pomoc nenašel.
Chtělo by se napsat, že se Balážovi nyní s 27.000 v žetonech dýchá lépe, ale vzhledem k obsazení stolu by to bylo asi dost troufalé tvrzení. Český hráč si dnes zahraje s Marvinem Rettenmaierem, Davidem Williamsem a Davidem Vamplewem.
Sušický a Hnízdo
Nijak slavně na tom není ani nerozlučná dvojka Sušický & Hnízdo. První zmíněný má 21.000 v žetonech, druhý je na tom jen o malinko lépe s 25.000.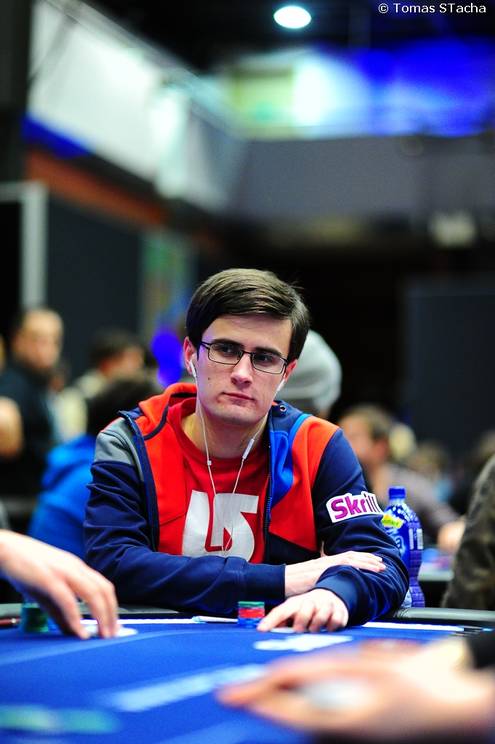 Další vyřazení Češi
Ondřej Kopecký se nejprve ve třech menších handách odhodil na 12 big blindů, o které po další čtvrthodině hry přišel neznámo jak.
Na svém původním místě již nesedí ani Vladimír Janouš, jehož jsme omylem vyřadili již v úvodním flightu. Teď už by to mělo být doopravdy.
Venku je také Vladimír Malák.
První dnešní level je za námi. Blindy se zvyšují na 500/1.000/a100, avg. stack je 63.207 a zbývá 477 hráčů z původních 1.005.
Vojtěch Růžička vyřazen
Při své další cestě do centra všeho dnešního dění jsem na místo určení ani nedorazil - v předsálí jsem totiž potkal Vojtěcha Růžičku.
"Hrozně jsem šel. Otevřel jsem z UTG K-Jo a dostal call od tří dědků. Flop šel J-T-x s clubovou flush draw - měl jsem kinga v clubech - takže dávám 3.600. Dva dědci call. V tom potu už je v tuhle chvíli 17.000 a já mám behind 13.000, takže na turnu 8 off dávám shove. Jeden dědek fold, druhej call. Otáčí jenom Q-T, ale na river jde desítka..."
"Vypadl jsem teda v hodně blbej čas, musím říct. Chci si zahrát ten dvoutalířák od čtyř totiž, takže asi budu muset jet na chvíli domů a pak se sem teda vrátit, mno," přemítá nahlas.
Dnešní plán
Po poměrně dlouho se táhnoucích flightech čeká hráče, kterým se dnes podaří postoupit, trocha odpočinku. Hrát se bude šest 75minutových levelů bez dinner breaku, čímž se dnešní den razantně zkrátí. Konec by měl nastat krátce po osmé večerní.
Jeden studenej od Káji
Karel Kratochvíl, český chipleader druhého hracího dne, se nějakou dobu hry vůbec nezúčastňoval a pouze se občas zapojil do konverzace mezi rozpovídanými Jasonem "jdtjpoker" Wheelerem a Peterem Barrablem. Ve své první větší akci byl ale poté úspěšný.
Miltiadis Kyriakides otevřel z MP na 1.600, známý ruský hráč Dmitry Vitkind 3betnul 3.800 z cutoffu a bylo vidět, že svojí akcí vzbudil u Karla Kratochvíla velký zájem. A skutečně - brněnský profesionál po asi půlminutce vytáhl cold 4bet na 7.700.
Řek zahodil okamžitě, Vitking po tanku také.
První střípky: Martin Kabrhel vyřazen a Vojtěchův špatný začátek
Ve chvíli, kdy dala turnajová ředitelka Teresa Nousiainen pokyn pro rozehrání druhého hracího dne, jsem stál nad Vojtěchem Růžičkou a na akci jsem nemusel čekat dlouho.
Erwann Pecheux, mladý Francouz s nálepkou profesionálního týmu PMU.fr, otevřel z UTG+1 na 1.600 a náš hráč mu z MP věnoval 3bet 3.400. Akce se po foldech zbylého osazenstva vrátila zpět k Pecheuxovi, který se Růžičky přeptal na výši stacku a po chvilce 4betnul 6.600.
Vojtěch asi minutu přemýšlel, ale byl z toho nakonec jen fold.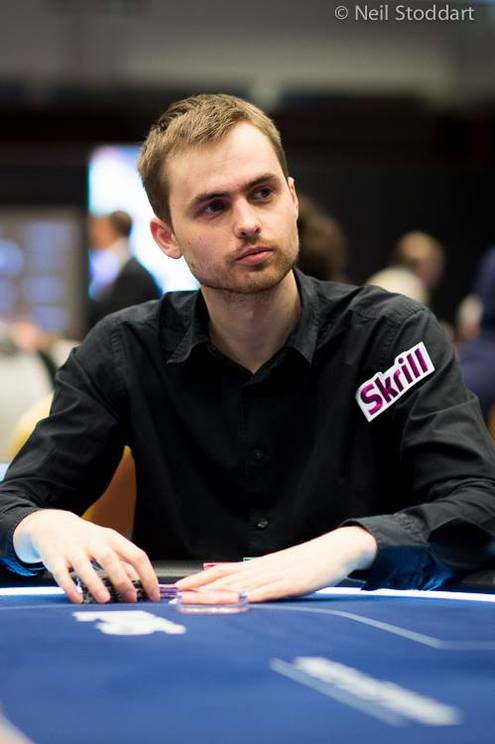 V akci už byl v té chvíli také opodál stojící Martin Kabrhel. K handě jsem ale dorazil až ve chvíli, kdy na stole ležel flop 8 , 2 , 10 a náš hráč po checku Elfada Mammadova v pozici shovenul zhruba 10.000. Ázerbajdžánec snap/callnul.
Kabrhel ukázal 7 , 7 , Mammadov byl napřed s A , 10 a zbylé streety na rozložení sil už nezměnily zhola nic. Martin Kabrhel je tak první českou obětí dnešního dne.
Začínáme
I dnes vás zdravíme z pražského hotelu Hilton, kde se za okamžik rozehraje již společný druhý hrací den rekordní pražské zastávky European Poker Tour. Z původního počtu 998 účastníků se ve hře představí 579 postupujících, mezi kterými nechybí ani šestnáctka českých zástupců.
Dnes budeme pozorně sledovat, kdo z nich nakročí vstříc vypláceným příčkám.
Hrát se začne na blindech 400/800/a100.
Kompletní seznam českých hráčů ve druhém hracím dni
| Jméno | Počet žetonů |
| --- | --- |
| Karel Kratochvíl | 116.900 |
| Jan Ramík | 100.700 |
| Radek Stockner | 90.000 |
| Martin Staszko | 65.800 |
| Vít Blachut | 55.700 |
| Petr Jelínek | 51.400 |
| Josef Antoš | 51.100 |
| Ondřej Kopecký | 30.900 |
| Vladimír Malák | 35.200 |
| Jan Sušický | 28.300 |
| Lukáš Hnízdo | 28.100 |
| Vojtěch Růžička | 25.100 |
| Vladimír Janouš | 23.400 |
| Tomáš Fučík | 22.100 |
| Martin Kabrhel | 17.300 |
| Martin Baláž | 15.500 |
Seat draw pro druhý hrací den
| Name | Country | Status | Table | Seat | Chips |
| --- | --- | --- | --- | --- | --- |
| Jakub Michalak | Poland | PokerStars player | 1 | 1 | 65,700 |
| Farid Chati | Turkey | | 1 | 2 | 87,000 |
| Vlado Banicevic | Montenegro | | 1 | 3 | 41,700 |
| Toby Lewis | UK | PokerStars player | 1 | 4 | 44,900 |
| Anton Krishchenko | Russia | PokerStars qualifier | 1 | 5 | 10,700 |
| Ciaran Burke | Ireland | PokerStars qualifier | 1 | 6 | 137,700 |
| Todd Terry | USA | | 1 | 7 | 12,800 |
| Rui Sousa | Portugal | PokerStars qualifier | 1 | 8 | 106,400 |
| Sofia Lovgren | Sweden | | 1 | 9 | 23,800 |
| Massimo Di Cicco | Italy | Live Satellite | 2 | 1 | 61,800 |
| Jan Ramik | Czech Republic | | 2 | 2 | 100,700 |
| Gregoire Panetti | Switzerland | | 2 | 3 | 14,100 |
| Tigran Yazychyan | Russia | | 2 | 4 | 38,300 |
| Stephan Kjerstad | Norway | PokerStars player | 2 | 5 | 43,100 |
| Niclas Svensson | Sweden | PokerStars qualifier | 2 | 6 | 42,000 |
| Rudi Johnsen | Norway | PokerStars qualifier | 2 | 7 | 90,200 |
| Jose Carlos Garcia | Poland | PokerStars qualifier | 2 | 8 | 138,500 |
| Jaroslav Baria | Slovenia | Live Satellite | 2 | 9 | 12,800 |
| Maximilian Bassil | Norway | PokerStars qualifier | 3 | 1 | 12,000 |
| Andrei Lazarev | Russia | PokerStars qualifier | 3 | 2 | 39,600 |
| Hugo Felix | Portugal | PokerStars qualifier | 3 | 3 | 67,200 |
| Jan Sjavik | Norway | PokerStars player | 3 | 4 | 142,400 |
| Wojciech Lozowski | Poland | | 3 | 5 | 56,100 |
| Elpidio Cepparulo | Italy | Live Satellite | 3 | 6 | 26,700 |
| Waldemar Essig | Germany | PokerStars qualifier | 3 | 7 | 26,000 |
| Sergey Baburin | Russia | PokerStars player | 3 | 8 | 82,200 |
| Kent Lundmark | Sweden | PokerStars qualifier | 3 | 9 | 67,100 |
| James Gilbert | USA | PokerStars qualifier | 4 | 1 | 90,500 |
| Vishal Pundjabi | Germany | | 4 | 2 | 18,400 |
| Darren Elias | USA | PokerStars player | 4 | 3 | 97,200 |
| Daniele Todeschini | Italy | | 4 | 4 | 31,200 |
| David Boyaciyan | Netherlands | | 4 | 5 | 40,500 |
| Krzysztof Stuchlik | Poland | | 4 | 6 | 85,300 |
| Ka Kwan Lau | Spain | PokerStars player | 4 | 7 | 73,000 |
| Alfio Battisti | Italy | PokerStars player | 4 | 8 | 54,800 |
| Clemens Manzano | Austria | | 4 | 9 | 98,000 |
| Aivaras Bardauskas | Lithuania | PokerStars qualifier | 5 | 1 | 77,300 |
| Vinicius Barrel Teles | Brazil | PokerStars qualifier | 5 | 2 | 121,500 |
| Saar Wilf | Israel | | 5 | 3 | 15,300 |
| Sal Al Fakih | Lebanon | | 5 | 4 | 48,700 |
| Max Greenwood | Canada | PokerStars player | 5 | 5 | 23,000 |
| Florian Krumpt | Germany | PokerStars qualifier | 5 | 6 | 70,900 |
| Scott Clements | Canada | PokerStars qualifier | 5 | 7 | 12,400 |
| Oleh Okhotskyi | Ukraine | | 5 | 8 | 82,400 |
| Peter Siemund | Germany | | 5 | 9 | 87,200 |
| Mario Re | Italy | | 6 | 1 | 43,100 |
| Ondrej Kopecky | Czech Republic | PokerStars qualifier | 6 | 2 | 30,900 |
| Ana Marquez | Spain | PokerStars qualifier | 6 | 3 | 28,700 |
| Bryan James Paris | USA | PokerStars player | 6 | 4 | 34,500 |
| Idan Raviv | Israel | PokerStars player | 6 | 5 | 63,000 |
| Jonathan Roy | Canada | | 6 | 6 | 149,100 |
| Michal Polchlopek | Poland | PokerStars player | 6 | 7 | 18,000 |
| Kataev Katayev | Russia | PokerStars player | 6 | 8 | 88,600 |
| Vyacheslav Stoyanov | Russia | PokerStars player | 6 | 9 | 65,800 |
| Miltiadis Kyriakides | Greece | PokerStars qualifier | 7 | 1 | 32,000 |
| Peter Barrable | Ireland | | 7 | 2 | 28,000 |
| Dmitry Vitkind | Russia | PokerStars qualifier | 7 | 3 | 36,000 |
| Karel Kratochvil | Czech Republic | PokerStars qualifier | 7 | 4 | 116,900 |
| Jason Wheeler | USA | PokerStars qualifier | 7 | 5 | 60,500 |
| Darie Vlad | Romania | PokerStars player | 7 | 6 | 129,400 |
| Alessandro Monticciolo | Italy | | 7 | 7 | 30,400 |
| Andreas Wiese | Germany | | 7 | 8 | 27,500 |
| Dietrich Fast | Germany | Live Satellite | 7 | 9 | 40,500 |
| Micah Raskin | USA | | 8 | 1 | 19,300 |
| Thor Drexel | Denmark | PokerStars player | 8 | 2 | 36,300 |
| Artem Romanov | Russia | | 8 | 3 | 69,200 |
| Yann Del Rey | France | | 8 | 4 | 51,500 |
| Davide Suriano | Italy | | 8 | 5 | 42,300 |
| Thanh Hai Pham | Viet Nam | PokerStars qualifier | 8 | 6 | 25,800 |
| Marcus Theodorus Van Opzeeland | Spain | | 8 | 7 | 31,200 |
| Martin Finger | Germany | PokerStars qualifier | 8 | 8 | 58,600 |
| Marcelo da Fonseca | Brazil | PokerStars qualifier | 8 | 9 | 74,000 |
| Anders Rasmussen | Denmark | | 9 | 1 | 99,500 |
| Mickey Petersen | Denmark | PokerStars Team Online | 9 | 2 | 37,800 |
| Vit Blachut | Czech Republic | | 9 | 3 | 55,700 |
| Sam Greenwood | Canada | PokerStars qualifier | 9 | 4 | 90,200 |
| Kevin Iacofano | UK | PokerStars qualifier | 9 | 5 | 21,000 |
| Adrian Veghinas | Romania | Live Satellite | 9 | 6 | 46,300 |
| Dmitry Yurasov | Russia | PokerStars qualifier | 9 | 7 | 36,200 |
| Jonathan Barusta | UK | PokerStars qualifier | 9 | 8 | 101,600 |
| Bernard Lattouf | Lebanon | Live Satellite | 10 | 1 | 156,800 |
| Jesper Winzerling | Sweden | Live Satellite | 10 | 2 | 93,000 |
| Mateusz Zbikowski | UK | PokerStars qualifier | 10 | 3 | 76,900 |
| Cezar Oprea | Romania | Live Satellite | 10 | 4 | 29,700 |
| Georgios Zisimopoulos | Greece | PokerStars qualifier | 10 | 5 | 33,200 |
| Caicai Huang | UK | PokerStars qualifier | 10 | 6 | 31,700 |
| Lucas Reeves | UK | PokerStars player | 10 | 7 | 140,800 |
| Peter Charalambous | UK | | 10 | 8 | 18,700 |
| Morten Klein | Norway | | 10 | 9 | 110,100 |
| Maximilian Senft | Germany | | 11 | 1 | 56,200 |
| Andreas Berggren | Sweden | PokerStars qualifier | 11 | 2 | 22,300 |
| Dmitry Ponomarev | Russia | | 11 | 4 | 84,100 |
| Charles Chaya | Canada | PokerStars qualifier | 11 | 5 | 127,800 |
| Sebastian Saffari | UK | PokerStars qualifier | 11 | 6 | 162,000 |
| Ermakov Roman | Russia | PokerStars qualifier | 11 | 7 | 34,600 |
| Michael Gross | Germany | PokerStars qualifier | 11 | 8 | 20,600 |
| Nicola Grieco | Italy | | 11 | 9 | 28,600 |
| Przemyslaw Misztela | Poland | PokerStars qualifier | 12 | 1 | 73,400 |
| Marc-Etienne Mclaughlin | Canada | PokerStars player | 12 | 2 | 26,100 |
| Carlos Egea | Spain | | 12 | 3 | 43,800 |
| Marc Macdonnell | Ireland | PokerStars player | 12 | 4 | 98,200 |
| Ryan Franklin | USA | PokerStars qualifier | 12 | 6 | 23,100 |
| Shannon Shorr | USA | PokerStars player | 12 | 7 | 40,400 |
| Craig Mccorkell | UK | PokerStars qualifier | 12 | 8 | 37,500 |
| Nicolas Levi | France | | 12 | 9 | 40,200 |
| Vineet Pahuja | Canada | PokerStars player | 13 | 1 | 12,800 |
| Dominik Panka | Poland | PokerStars qualifier | 13 | 2 | 37,300 |
| Kuljinder Sidhu | UK | | 13 | 3 | 57,600 |
| Valentino Yasenov Konakchiev | Bulgaria | PokerStars qualifier | 13 | 4 | 149,000 |
| Moshe Elazar | Israel | PokerStars player | 13 | 5 | 20,800 |
| Denys Drobyna | Ukraine | PokerStars player | 13 | 6 | 98,200 |
| Nichlas Mattsson | Sweden | PokerStars player | 13 | 7 | 19,900 |
| Paolo Compagno | Switzerland | PokerStars qualifier | 13 | 8 | 111,800 |
| Douglas Souza | Brazil | PokerStars qualifier | 13 | 9 | 35,200 |
| David Biagi | Italy | | 14 | 2 | 49,300 |
| Victor Wessman | Sweden | PokerStars qualifier | 14 | 3 | 35,700 |
| Aleksey Ponakov | Latvia | PokerStars player | 14 | 4 | 23,800 |
| Emmanuel Francois Murcia | Belgium | | 14 | 5 | 58,600 |
| Ivan Tikhov | Russia | PokerStars player | 14 | 6 | 89,900 |
| Kenneth Hicks | USA | PokerStars qualifier | 14 | 7 | 89,500 |
| Salman Behbehani | Kuwait | PokerStars player | 14 | 8 | 28,500 |
| Bryan Leskowitz | USA | PokerStars player | 14 | 9 | 19,100 |
| Norbert Szecsi | Hungary | PokerStars player | 15 | 1 | 11,800 |
| Giuseppe Zarbo | Italy | | 15 | 2 | 27,400 |
| Christophe De Meulder | Belgium | Team PokerStars Pro | 15 | 3 | 40,100 |
| Zsolt Pentek | Hungary | Live Satellite | 15 | 4 | 63,800 |
| Tapio Vihakas | Finland | PokerStars qualifier | 15 | 5 | 105,500 |
| Plamen Todorov | Bulgaria | | 15 | 6 | 20,600 |
| Jonathan Little | USA | | 15 | 7 | 104,200 |
| Simon Deadman | UK | PokerStars player | 15 | 8 | 117,800 |
| Ben Martin | UK | PokerStars qualifier | 15 | 9 | 55,900 |
| Bjorn Brost | Germany | | 16 | 1 | 95,000 |
| Erik Olofsson | Sweden | PokerStars player | 16 | 2 | 7,700 |
| Janous Vladimir | Czech Republic | PokerStars qualifier | 16 | 3 | 23,400 |
| Krzysztof Dulowski | Poland | Live Satellite | 16 | 4 | 31,800 |
| Maxence Dupont | France | PokerStars qualifier | 16 | 5 | 9,100 |
| Denis Pisarev | Russia | PokerStars qualifier | 16 | 6 | 69,400 |
| Artem Metalidi | Ukraine | PokerStars qualifier | 16 | 7 | 28,700 |
| Marc-Andre Ladouceur | Canada | PokerStars Team Online | 16 | 8 | 48,500 |
| Desislav Velikov | Bulgaria | | 17 | 1 | 34,500 |
| Stefan Lehner | Austria | PokerStars qualifier | 17 | 3 | 63,200 |
| Liutauras Armanavicius | Lithuania | PokerStars qualifier | 17 | 4 | 13,300 |
| Joao Simao | Brazil | PokerStars qualifier | 17 | 5 | 163,100 |
| Max Silver | UK | PokerStars player | 17 | 6 | 87,100 |
| Stefan Ivanov | Bulgaria | PokerStars qualifier | 17 | 7 | 19,900 |
| Timothy Ulmer | Canada | PokerStars qualifier | 17 | 8 | 55,000 |
| Joao Baumgarten | Brazil | PokerStars player | 17 | 9 | 83,800 |
| Marinko Skoric | Bosnia and Herzegovina | Live Satellite | 18 | 1 | 43,200 |
| Shai Zurr | Israel | PokerStars player | 18 | 2 | 49,100 |
| Myro Garcia | Brazil | PokerStars player | 18 | 3 | 45,600 |
| Stanislavs Macugins | Russia | Live Satellite | 18 | 4 | 12,200 |
| Boutros Naim | Lebanon | PokerStars qualifier | 18 | 5 | 39,800 |
| Kevin Macphee | USA | PokerStars qualifier | 18 | 6 | 25,500 |
| Carl Carlsson | Sweden | PokerStars qualifier | 18 | 8 | 15,500 |
| Vitaly Lunkin | Russia | | 18 | 9 | 51,900 |
| David Peters | USA | PokerStars player | 19 | 1 | 76,000 |
| Timo Isotalo | Finland | PokerStars qualifier | 19 | 2 | 12,600 |
| Zdravko Duvnjak | Netherlands | PokerStars player | 19 | 3 | 65,000 |
| Alexander Debus | Germany | PokerStars qualifier | 19 | 4 | 16,300 |
| Nikita Nikolaev | Russia | PokerStars qualifier | 19 | 5 | 19,600 |
| Martin Nikolov | Bulgaria | Live Satellite | 19 | 7 | 58,400 |
| Ramin Hajiyev | Azerbaijan | | 19 | 8 | 13,600 |
| Vasileios Korkas | Greece | PokerStars qualifier | 19 | 9 | 95,600 |
| Sergey Lebedev | Russia | PokerStars player | 20 | 1 | 26,000 |
| Sean Prendiville | Ireland | | 20 | 2 | 83,000 |
| Stefan Vagner | Slovakia | | 20 | 3 | 48,700 |
| Sunny Chattha | UK | | 20 | 4 | 48,000 |
| Adrian Mateos Diaz | Spain | PokerStars qualifier | 20 | 5 | 79,100 |
| Anton Kraus | Bulgaria | PokerStars qualifier | 20 | 6 | 58,300 |
| Marat Begenov | Kazakhstan | | 20 | 7 | 38,500 |
| Alexander Lakhov | Russia | PokerStars player | 20 | 8 | 76,800 |
| Giacomo Fundaro | Italy | | 20 | 9 | 18,700 |
| Nandor Solyom | Romania | Live Satellite | 21 | 1 | 81,700 |
| Dimitry Chernikov | Russia | | 21 | 2 | 83,900 |
| Marc Daubach | UK | PokerStars qualifier | 21 | 3 | 24,400 |
| Marco Leonzio | Italy | | 21 | 4 | 37,200 |
| Boris Scepanovic | Montenegro | PokerStars qualifier | 21 | 5 | 40,000 |
| Rhys Jones | UK | PokerStars qualifier | 21 | 6 | 42,600 |
| Gwendal Montiton | France | Live Satellite | 21 | 7 | 36,400 |
| Siarhei Sharkota | Belarus | | 21 | 8 | 32,500 |
| Konstantin Maslak | Russia | PokerStars qualifier | 21 | 9 | 37,800 |
| Akin Tuna | Germany | | 22 | 1 | 26,100 |
| Kemal Sevevi | Turkey | Live Satellite | 22 | 2 | 48,200 |
| Aliaksandr Posled | Russia | Live Satellite | 22 | 3 | 79,800 |
| Ivan Glushkov | Russia | | 22 | 4 | 116,800 |
| Ihar Koshal | Belarus | PokerStars qualifier | 22 | 5 | 70,000 |
| Manuel Andrees Sadornil | Spain | | 22 | 6 | 22,000 |
| Robert Zipf | Germany | | 22 | 7 | 28,100 |
| Matej Marinovic | Croatia | PokerStars player | 22 | 8 | 15,900 |
| Lasse Frost | Denmark | PokerStars qualifier | 22 | 9 | 24,500 |
| Mikalai Pobal | Belarus | | 23 | 1 | 15,900 |
| Chady El Ojeil | Lebanon | | 23 | 2 | 86,800 |
| Vitalijs Zavorotnijs | Latvia | PokerStars player | 23 | 3 | 41,500 |
| Pasquale Braco | Italy | Live Satellite | 23 | 4 | 51,500 |
| Jorma Nuutinen | Finland | PokerStars player | 23 | 6 | 84,400 |
| Hyung Jung | Korea | PokerStars player | 23 | 7 | 88,000 |
| Panicos Ellinas | UK | PokerStars qualifier | 23 | 8 | 100,800 |
| Apostolos Chatzopoulos | Germany | Live Satellite | 23 | 9 | 50,300 |
| Manfred Sierke | Germany | PokerStars qualifier | 24 | 1 | 36,700 |
| Karen Sarkisyan | Russia | PokerStars player | 24 | 2 | 79,900 |
| Johannes Korsar | Sweden | PokerStars player | 24 | 3 | 8,300 |
| Yury Gulyy | Russia | | 24 | 4 | 38,600 |
| Mikhail Marchenko | Russia | PokerStars qualifier | 24 | 5 | 53,500 |
| Yaacoub Jihad | Lebanon | | 24 | 6 | 18,600 |
| Aku Joentausta | Finland | PokerStars player | 24 | 7 | 50,700 |
| Konstantin Tolokno | Russia | | 24 | 8 | 43,200 |
| Filippo Lazzaretto | Italy | Live Satellite | 24 | 9 | 55,000 |
| Jonathan Duhamel | Canada | Team PokerStars Pro | 25 | 1 | 16,100 |
| Andreas Agiostratitis | Greece | PokerStars qualifier | 25 | 2 | 32,200 |
| Vladimir Malak | Czech Republic | | 25 | 3 | 35,200 |
| Lenoir Eric | Belgium | | 25 | 4 | 24,400 |
| Berthold Winz | Germany | | 25 | 5 | 70,000 |
| Marek Tatar | Slovakia | | 25 | 6 | 20,000 |
| Apostolos Bechrakis | Greece | PokerStars qualifier | 25 | 7 | 60,700 |
| Jeton Alimusaj | Sweden | | 25 | 8 | 38,000 |
| Franz Ditz | Germany | PokerStars qualifier | 25 | 9 | 105,200 |
| Zoltan Purak | Austria | PokerStars qualifier | 26 | 1 | 9,400 |
| Tom Alner | UK | | 26 | 2 | 40,600 |
| Paul Volpe | USA | PokerStars qualifier | 26 | 3 | 82,100 |
| Rytis Praninskas | Lithuania | Live Satellite | 26 | 4 | 15,200 |
| Sergio Aido | Spain | PokerStars qualifier | 26 | 5 | 81,200 |
| Andrei Demidov | Russia | | 26 | 6 | 41,000 |
| Gaelle Baumann | France | | 26 | 7 | 33,800 |
| Mathew Frankland | UK | PokerStars qualifier | 26 | 8 | 17,800 |
| Anaras Alekberovas | Lithuania | | 26 | 9 | 115,600 |
| Eoghan O'Dea | Ireland | | 27 | 1 | 69,600 |
| Vojtech Ruzicka | Czech Republic | PokerStars qualifier | 27 | 2 | 25,100 |
| Walter Blattler | Switzerland | | 27 | 3 | 62,000 |
| Tomasz Kowalski | Poland | | 27 | 4 | 63,500 |
| Gaetano Dell`Aera | Belgium | | 27 | 5 | 47,300 |
| Reza Doomun | Switzerland | | 27 | 6 | 33,600 |
| Simeon Naydenov | Bulgaria | PokerStars qualifier | 27 | 7 | 46,100 |
| Florian-Dimitrie Duta | Romania | Live Satellite | 27 | 8 | 45,600 |
| Erwann Pecheux | France | | 27 | 9 | 50,700 |
| Andrey Volkov | Russia | | 28 | 1 | 100,000 |
| Ramil Boyazitov | Russia | | 28 | 2 | 77,200 |
| Scott Augustine | Czech Republic | | 28 | 3 | 81,600 |
| Viktor Makeev | Spain | | 28 | 4 | 12,500 |
| Darko Stojanovic | France | | 28 | 5 | 31,500 |
| Marius Heiene | Sweden | PokerStars player | 28 | 6 | 141,900 |
| Guillaume Dupuy | France | PokerStars qualifier | 28 | 7 | 76,900 |
| Giovani Torre | Portugal | Live Satellite | 28 | 8 | 55,100 |
| Ronan Monfort | France | PokerStars qualifier | 28 | 9 | 16,500 |
| Tomas Fucik | Czech Republic | PokerStars qualifier | 29 | 1 | 22,100 |
| Daniel Tighe | UK | | 29 | 2 | 104,700 |
| Ilan Suloman | Israel | | 29 | 3 | 61,500 |
| Kory Kilpatrick | USA | PokerStars player | 29 | 4 | 20,400 |
| Andrey Bondar | Russia | | 29 | 5 | 9,500 |
| Gustavo Lopez Garcia | Spain | Live Satellite | 29 | 6 | 54,400 |
| Aleksandr Konstantinov | Russia | | 29 | 7 | 53,100 |
| Sam Chartier | Canada | PokerStars qualifier | 29 | 8 | 32,200 |
| Amir Lehavot | USA | PokerStars player | 29 | 9 | 239,300 |
| Roman Korenev | Russia | PokerStars player | 30 | 1 | 120,100 |
| Dmitrijs Meless | Latvia | PokerStars player | 30 | 2 | 17,800 |
| Mikhail Surin | Russia | PokerStars player | 30 | 3 | 16,400 |
| Martin Stausholm | Denmark | PokerStars player | 30 | 4 | 10,400 |
| Jannick Wrang | Denmark | PokerStars qualifier | 30 | 5 | 97,700 |
| Paul-Francois Tedeschi | France | | 30 | 6 | 75,300 |
| Bryn Kenney | USA | PokerStars qualifier | 30 | 7 | 31,000 |
| Jyri Merivirta | Finland | PokerStars qualifier | 30 | 8 | 16,100 |
| Andreas Vlachos | Greece | Live Satellite | 30 | 9 | 61,500 |
| Joe Laming | UK | | 31 | 1 | 49,600 |
| Viacheslav Goryachev | Russia | | 31 | 2 | 59,600 |
| Simon Ravnsbaek | Denmark | PokerStars qualifier | 31 | 3 | 59,200 |
| Tobias Peters | Netherlands | Live Satellite | 31 | 4 | 33,000 |
| Francis-Nicolas Bouchard | Canada | PokerStars player | 31 | 5 | 16,400 |
| Grzegorz Wyraz | Poland | PokerStars qualifier | 31 | 6 | 57,500 |
| Franz-Josef Breuer | Germany | PokerStars qualifier | 31 | 7 | 17,600 |
| Simon Mattsson | Sweden | PokerStars qualifier | 31 | 8 | 161,400 |
| Lars Anders Dahlin | Sweden | | 31 | 9 | 80,100 |
| Martin Balaz | Czech Republic | PokerStars player | 32 | 1 | 15,500 |
| Milad Oshabian | Netherlands | Live Satellite | 32 | 2 | 71,900 |
| Philippe Barouk | France | | 32 | 3 | 112,800 |
| David Williams | USA | PokerStars player | 32 | 4 | 50,500 |
| Michael Friedrich | Switzerland | PokerStars player | 32 | 5 | 84,400 |
| Carla Solinas | Italy | | 32 | 6 | 16,700 |
| Georgii Bandura | Russia | | 32 | 7 | 99,800 |
| David Vamplew | UK | PokerStars qualifier | 32 | 8 | 30,700 |
| Ioannis Fronimakis | Greece | PokerStars qualifier | 32 | 9 | 73,800 |
| Somar Al-Darwich | Germany | PokerStars player | 33 | 1 | 13,300 |
| Victor Podofedenko | Russia | PokerStars player | 33 | 2 | 40,300 |
| Dominik Nitsche | Germany | PokerStars qualifier | 33 | 3 | 34,700 |
| Oleksii Kovalchuk | Ukraine | | 33 | 4 | 24,600 |
| Philippe Ktorza | France | | 33 | 5 | 17,800 |
| Martin Prager | Denmark | PokerStars qualifier | 33 | 6 | 44,000 |
| Ihar Soika | Belarus | PokerStars qualifier | 33 | 7 | 40,200 |
| Eugene Katchalov | Ukraine | Team PokerStars Pro | 33 | 8 | 81,900 |
| Dylan Linde | USA | PokerStars qualifier | 33 | 9 | 36,400 |
| Seredyuk Sergiy | Ukraine | Live Satellite | 34 | 1 | 49,500 |
| Eduards Kudrjavcevs | Latvia | PokerStars player | 34 | 2 | 79,800 |
| Muhammad Fareed | Pakistan | | 34 | 3 | 90,100 |
| Elfad Mammadov | Azerbaijan | | 34 | 4 | 79,400 |
| Slobodan Ruzicic | Serbia | | 34 | 5 | 6,400 |
| Miklos Zsuffa | Hungary | PokerStars qualifier | 34 | 6 | 115,700 |
| Martin Kabrhel | Czech Republic | PokerStars player | 34 | 7 | 17,300 |
| Bela Toth | Hungary | PokerStars qualifier | 34 | 8 | 39,600 |
| Julian Thomas | Germany | PokerStars player | 34 | 9 | 26,600 |
| Marcin Wydrowski | Poland | PokerStars qualifier | 35 | 1 | 58,500 |
| Ioannis Apostolidis | Greece | | 35 | 2 | 105,600 |
| Sylvain Loosli | France | | 35 | 3 | 148,300 |
| Sotirios Koutoupas | Greece | | 35 | 4 | 44,000 |
| Dominguez Pardo | Spain | PokerStars qualifier | 35 | 5 | 130,000 |
| Scott Margereson | UK | PokerStars qualifier | 35 | 6 | 41,200 |
| Victor Sheerman | Russia | | 35 | 7 | 94,600 |
| Davidi Kitai | Belgium | | 35 | 9 | 99,100 |
| Remi Castaignon | France | | 36 | 1 | 16,100 |
| Jiachen Gong | Canada | PokerStars qualifier | 36 | 3 | 55,100 |
| Ryan Spittles | UK | | 36 | 4 | 12,100 |
| Stepan Lavrin | Russia | PokerStars qualifier | 36 | 5 | 34,200 |
| Michel Dattani | Portugal | PokerStars player | 36 | 6 | 69,300 |
| Sebastian Mueller | Germany | PokerStars qualifier | 36 | 7 | 96,800 |
| Nihat Karyagdi | Romania | PokerStars qualifier | 36 | 8 | 67,700 |
| Alexander Dovzhenko | Russia | PokerStars player | 36 | 9 | 43,400 |
| Bolivar Palacios | Panama | PokerStars player | 37 | 1 | 25,500 |
| Marcello Miniucchi | Italy | | 37 | 2 | 56,600 |
| Pflanzl Hannes | Germany | PokerStars qualifier | 37 | 3 | 130,000 |
| Gianluca Rullo | Italy | | 37 | 4 | 80,400 |
| Robert Auer | Germany | PokerStars qualifier | 37 | 5 | 86,200 |
| Dmytko Samoilenko | Ukraine | Live Satellite | 37 | 6 | 65,300 |
| Ludovic Lacay | France | | 37 | 7 | 97,800 |
| Abdessamade El Mzdadi | France | | 37 | 8 | 77,500 |
| Kilian Kramer | Germany | PokerStars player | 37 | 9 | 7,400 |
| Waldemar Peter | Germany | Live Satellite | 38 | 1 | 55,400 |
| Matthew Haugen | USA | | 38 | 2 | 59,700 |
| Bejjani Kamal | Lebanon | | 38 | 3 | 87,900 |
| Vazha Kometiani | Georgia | Live Satellite | 38 | 4 | 43,000 |
| Thomas Muhlocker | Germany | PokerStars qualifier | 38 | 5 | 95,900 |
| Petr Jelinek | Czech Republic | PokerStars qualifier | 38 | 6 | 51,400 |
| Dermot Blain | Ireland | PokerStars player | 38 | 8 | 107,000 |
| Martin Wiklund | Sweden | PokerStars qualifier | 38 | 9 | 106,400 |
| Armin Zoike | Germany | PokerStars player | 39 | 1 | 64,200 |
| Stefan Kolossow | Germany | PokerStars player | 39 | 2 | 35,000 |
| Andrew Chen | Canada | Live Satellite | 39 | 3 | 45,300 |
| Andrey Grenko | Russia | | 39 | 4 | 47,600 |
| Artem Pilkevich | Russia | PokerStars qualifier | 39 | 5 | 64,500 |
| Dany Parlafes | Romania | Live Satellite | 39 | 6 | 92,700 |
| Tomas Samol | Slovakia | PokerStars qualifier | 39 | 7 | 40,600 |
| Steve O`Dwyer | Ireland | PokerStars qualifier | 39 | 8 | 60,200 |
| Michael Tureniec | Sweden | PokerStars player | 39 | 9 | 70,300 |
| Markus Masiak | Germany | Live Satellite | 40 | 1 | 10,300 |
| Robbie Bull | UK | PokerStars player | 40 | 2 | 56,300 |
| Andrii Nadieliaiev | Ukraine | | 40 | 3 | 53,400 |
| Christian Grundtvig | Denmark | | 40 | 4 | 38,000 |
| Lukas Hnizdo | Czech Republic | PokerStars player | 40 | 5 | 28,100 |
| Simon Harig | Australia | PokerStars player | 40 | 6 | 21,800 |
| Mohamed Almani | Libya | | 40 | 7 | 32,700 |
| Emil Mattsson | Sweden | PokerStars qualifier | 40 | 8 | 46,800 |
| Juha Lauttamus | Finland | PokerStars player | 40 | 9 | 49,400 |
| Thomas Pettersson | Sweden | PokerStars qualifier | 41 | 1 | 52,600 |
| Ugnius Simelionis | Lithuania | Live Satellite | 41 | 2 | 22,400 |
| Vicente Delgado Zamorano | Spain | PokerStars qualifier | 41 | 3 | 72,000 |
| Henrique Pinho | Portugal | PokerStars player | 41 | 4 | 73,000 |
| Adrian Piasecki | Poland | PokerStars qualifier | 41 | 5 | 95,700 |
| Kirill Shugai | Russia | PokerStars qualifier | 41 | 6 | 169,100 |
| Mathias Puzich | Germany | Live Satellite | 41 | 7 | 36,800 |
| Thomas Scholze | Austria | PokerStars qualifier | 41 | 8 | 41,000 |
| Robert Haigh | Germany | PokerStars player | 41 | 9 | 15,900 |
| Jonas Lauck | Germany | PokerStars qualifier | 42 | 1 | 42,700 |
| Martin Monrad Pedersen | Denmark | | 42 | 2 | 14,400 |
| Stephane Benadiba | France | | 42 | 4 | 63,100 |
| Patrick Serda | Canada | PokerStars qualifier | 42 | 5 | 66,600 |
| Slaven Popov | Bulgaria | | 42 | 6 | 25,600 |
| Milan Joksic | Austria | | 42 | 7 | 56,300 |
| Dimitrios Kalaroutis | Greece | PokerStars qualifier | 42 | 8 | 37,100 |
| Anton Komarov | Russia | | 42 | 9 | 24,800 |
| Simon Cuq | French | | 43 | 1 | 59,400 |
| Lauri Pesonen | Finland | PokerStars qualifier | 43 | 2 | 30,600 |
| Albert Mykhaylyuta | Ukraine | | 43 | 3 | 64,800 |
| Joseph El Khoury | Lebanon | | 43 | 4 | 15,300 |
| Radek Stockner | Czech Republic | | 43 | 5 | 90,000 |
| Marc Trijaud | France | Live Satellite | 43 | 7 | 64,700 |
| Hannu Peltola | Finland | | 43 | 8 | 54,200 |
| Micha Hoedemaker | Netherlands | PokerStars player | 43 | 9 | 78,400 |
| Vasily Andrienko | Russia | | 44 | 1 | 29,400 |
| Kitty Kuo | China | PokerStars qualifier | 44 | 2 | 75,000 |
| Vlad Rosca | Australia | PokerStars qualifier | 44 | 3 | 18,700 |
| Alex Kravchenko | Russia | PokerStars player | 44 | 4 | 58,700 |
| Eli Bohbot | Israel | PokerStars qualifier | 44 | 5 | 7,400 |
| Emin Aghayev | Monaco | | 44 | 6 | 6,500 |
| Aleksandr Tulaev | Russia | | 44 | 7 | 63,200 |
| Gunter Fortkord | Germany | Live Satellite | 44 | 8 | 17,200 |
| Aleksandr Suvalov | Russia | | 44 | 9 | 24,500 |
| Richard Milne Snr. | UK | PokerStars qualifier | 45 | 1 | 22,900 |
| Simon Fuller | UK | | 45 | 2 | 59,800 |
| Julian Track | Germany | PokerStars qualifier | 45 | 3 | 69,600 |
| Bassel Moussa | Lebanon | | 45 | 4 | 18,400 |
| Tomasz Chmiel | Poland | PokerStars qualifier | 45 | 6 | 20,800 |
| Josef Antos | Czech Republic | PokerStars qualifier | 45 | 7 | 51,100 |
| Andrew Hulme | UK | PokerStars player | 45 | 8 | 63,000 |
| Tolik Shkoyan | Russia | | 45 | 9 | 20,000 |
| Jose Maria Galindo | Spain | | 46 | 1 | 27,300 |
| Gintaras Simaitis | Lithuania | | 46 | 2 | 18,300 |
| Florian Kossler | Germany | PokerStars player | 46 | 3 | 25,000 |
| Thomas Mercier | Belgium | | 46 | 4 | 55,000 |
| Amir Sonsino | Israel | | 46 | 5 | 72,800 |
| Hall Ryan | Canada | PokerStars player | 46 | 6 | 46,700 |
| Grigory Pakhomov | Russia | | 46 | 7 | 29,300 |
| Zoltan Tibor Szabo | Hungary | | 46 | 8 | 39,200 |
| Alexandros Dumitru Savin | Romania | Live Satellite | 46 | 9 | 17,700 |
| Piotr Robert Pietrzak | Poland | PokerStars player | 47 | 1 | 54,300 |
| Dmitri Holdeew | Germany | PokerStars player | 47 | 2 | 95,200 |
| Abou Saleh Elias | Lebanon | | 47 | 3 | 16,700 |
| Martin Hanowski | Germany | PokerStars player | 47 | 4 | 67,000 |
| Peter Turmezey | Hungary | PokerStars qualifier | 47 | 5 | 62,800 |
| Stefan Jedlicka | Austria | PokerStars player | 47 | 6 | 36,800 |
| Hau Minh Nguyen | Australia | PokerStars player | 47 | 7 | 71,400 |
| Marius Maciukas | Lithuania | PokerStars qualifier | 47 | 8 | 63,100 |
| Gereon Sowa | Germany | PokerStars qualifier | 47 | 9 | 30,400 |
| Alex Bilokur | Russia | PokerStars player | 48 | 1 | 118,200 |
| Ole Schemion | Germany | PokerStars qualifier | 48 | 2 | 42,500 |
| Serge Matta | Lebanon | | 48 | 3 | 46,300 |
| Romain Chauvassagne | France | Live Satellite | 48 | 4 | 94,900 |
| Onur Guvan | UK | | 48 | 5 | 29,800 |
| Denis Kipnis | Russia | PokerStars qualifier | 48 | 6 | 39,500 |
| Daniel Negreanu | Canada | Team PokerStars Pro | 48 | 7 | 74,600 |
| Mantas Visockis | Lithuania | PokerStars qualifier | 48 | 8 | 32,900 |
| Thomas Brader | Netherlands | PokerStars player | 48 | 9 | 66,600 |
| Gaik Karabakhtcian | Russia | | 49 | 1 | 41,300 |
| Jeff Sarwer | Finland | PokerStars player | 49 | 2 | 42,800 |
| Thomas Hall | UK | PokerStars qualifier | 49 | 3 | 63,100 |
| Mikhail Shevchuk | Russia | Live Satellite | 49 | 4 | 43,500 |
| Joe Mouawad | Lebanon | PokerStars qualifier | 49 | 5 | 24,900 |
| Sigurd Andreas Eskeland | Norway | PokerStars qualifier | 49 | 6 | 184,600 |
| Dario Sammartino | Italy | | 49 | 7 | 103,700 |
| Antonio Lafosse | Peru | | 49 | 8 | 70,900 |
| Jordi Riba Corrons | Andorra | PokerStars qualifier | 49 | 9 | 14,600 |
| Ronny Voth | Germany | Live Satellite | 50 | 1 | 166,400 |
| Sebastian Langrock | Germany | | 50 | 2 | 25,800 |
| Mariusz Klosinski | Poland | | 50 | 3 | 15,300 |
| Manuel Bevand | France | | 50 | 5 | 55,100 |
| Ivan Soshnikov | Russia | PokerStars qualifier | 50 | 6 | 38,100 |
| Gary Johnson | USA | PokerStars qualifier | 50 | 7 | 71,400 |
| Dimitar Danchev | Bulgaria | | 50 | 8 | 40,500 |
| Aleksejs Meless | Latvia | | 50 | 9 | 79,900 |
| Sonny Marcel Jean Franco | France | Live Satellite | 51 | 1 | 17,800 |
| Edouard Mignot | France | | 51 | 2 | 34,000 |
| Igor Dubinskyy | Ukraine | | 51 | 3 | 58,300 |
| Pete Linton | UK | | 51 | 4 | 67,100 |
| Inigo Rodriguez | Spain | PokerStars qualifier | 51 | 5 | 84,500 |
| Petr Glasko | Russia | | 51 | 6 | 47,400 |
| Andrey Shaporin | Russia | | 51 | 7 | 47,400 |
| Benjamin Pollak | France | | 51 | 8 | 70,300 |
| Claude Philippe Marbleu | France | Live Satellite | 51 | 9 | 27,200 |
| Julien Jean-Paul Brulet | Belgium | PokerStars qualifier | 52 | 1 | 32,100 |
| Robin Ylitalo | Sweden | PokerStars qualifier | 52 | 2 | 55,400 |
| Nicolai Kramer | Germany | PokerStars player | 52 | 3 | 77,600 |
| Marius Pospiech | Germany | PokerStars qualifier | 52 | 4 | 58,500 |
| Gergely Rona | Hungary | PokerStars player | 52 | 5 | 32,900 |
| Antonis Poulengeris | UK | PokerStars qualifier | 52 | 6 | 43,400 |
| Cristinel Dumitru | Romania | PokerStars player | 52 | 7 | 66,700 |
| James Hoeppner | USA | | 52 | 8 | 44,200 |
| Hugh Drummond | Canada | PokerStars player | 53 | 1 | 52,000 |
| Markus Kivipuro | Finland | PokerStars player | 53 | 2 | 51,400 |
| Sam Cohen | USA | | 53 | 3 | 16,900 |
| Aleksandr Gofman | Russia | PokerStars qualifier | 53 | 4 | 51,700 |
| Christian Golob | Austria | | 53 | 5 | 55,100 |
| Marvin Rettenmaier | Germany | PokerStars player | 53 | 6 | 44,700 |
| Friedrich Paul Raz | Switzerland | | 53 | 7 | 32,400 |
| Jakob Karlsson | Sweden | PokerStars player | 53 | 8 | 49,200 |
| Juha Helppi | Finland | | 53 | 9 | 34,400 |
| Pawel Brzeski | Poland | PokerStars qualifier | 54 | 1 | 92,500 |
| Bogdan Ana | Romania | PokerStars player | 54 | 2 | 42,100 |
| Olli Mikael Rundgren | Finland | Live Satellite | 54 | 3 | 38,600 |
| Jan Susicky | Czech Republic | | 54 | 4 | 28,300 |
| Aleksis Tsaousidis | Greece | PokerStars qualifier | 54 | 5 | 31,600 |
| Benjamin Juhasz | Hungary | PokerStars qualifier | 54 | 6 | 61,400 |
| Manig Loeser | Germany | PokerStars player | 54 | 7 | 38,400 |
| Rumen Nanev | Bulgaria | Live Satellite | 54 | 8 | 87,400 |
| Jeremie Maxime Beneteau | France | Live Satellite | 54 | 9 | 22,700 |
| Tamer Kamel | UK | PokerStars qualifier | 55 | 1 | 47,400 |
| Alex Klimashin | Russia | PokerStars qualifier | 55 | 2 | 25,100 |
| Thomas Pedersen | Denmark | | 55 | 3 | 74,900 |
| Anatoly Chen | Russia | | 55 | 4 | 55,600 |
| Igor Izmaylov | Russia | | 55 | 5 | 37,900 |
| Gerald Karlic | Germany | PokerStars qualifier | 55 | 6 | 82,800 |
| Ori Hasson | Israel | PokerStars qualifier | 55 | 7 | 157,600 |
| Umberto Vitagliano | Italy | | 55 | 8 | 76,400 |
| Tiberu-Florian Georgescu | Romania | | 55 | 9 | 191,100 |
| Viatcheslav Ortynskiy | Russia | PokerStars player | 56 | 1 | 18,400 |
| Stephen Chidwick | UK | PokerStars qualifier | 56 | 2 | 62,500 |
| Mario Adinolfi | Italy | | 56 | 3 | 41,900 |
| Martin Staszko | Czech Republic | | 56 | 4 | 65,800 |
| Erik Scheidt | Germany | PokerStars qualifier | 56 | 5 | 30,300 |
| Pascal Vos | Netherlands | PokerStars player | 56 | 6 | 11,300 |
| Kamran Aghamammadov | Azerbaijan | | 56 | 7 | 6,000 |
| Bertrand "Elky" Grospellier | France | Team PokerStars Pro | 56 | 8 | 79,700 |
| Kharis Kamaletdinov | Russia | | 56 | 9 | 39,800 |
| Danilo Velasevic | Serbia | | 57 | 1 | 25,100 |
| Eetu Parpala | Finland | PokerStars qualifier | 57 | 2 | 79,200 |
| Natalie Hof | Germany | Friend of PokerStars | 57 | 3 | 23,900 |
| Florian Lohnert | Germany | PokerStars player | 57 | 4 | 21,600 |
| Alberto Fiorilla | Italy | Live Satellite | 57 | 5 | 34,700 |
| Paul Varano | USA | PokerStars player | 57 | 6 | 11,700 |
| Andrea Benelli | Italy | | 57 | 7 | 140,400 |
| Robert Schulz | Germany | | 57 | 8 | 17,100 |
| Andreas Chalkiadakis | Greece | PokerStars qualifier | 57 | 9 | 18,900 |
| Joshua Hunt | UK | PokerStars qualifier | 58 | 1 | 72,900 |
| Jan-Eric Schwippert | Germany | PokerStars player | 58 | 2 | 118,100 |
| Andre Goldbaum Lichtenshtein | Brazil | | 58 | 3 | 55,800 |
| Matvey Linov | Russia | PokerStars player | 58 | 4 | 60,000 |
| Olivier Busquet | USA | PokerStars player | 58 | 6 | 72,000 |
| Toni Judet | Romania | | 58 | 7 | 23,400 |
| Konstantin Streletskiy | Russia | | 58 | 8 | 116,600 |
| Cengiz Can Ulusu | Turkey | | 58 | 9 | 8,000 |
| Luca Amoruso | Italy | | 59 | 1 | 32,000 |
| Adam Markovits | Hungary | PokerStars qualifier | 59 | 2 | 61,200 |
| Georgi Bekyarov | Bulgaria | PokerStars qualifier | 59 | 3 | 27,000 |
| Hani EL Assaad | Lebanon | PokerStars qualifier | 59 | 4 | 22,200 |
| Georgios Sotiropoulos | Greece | PokerStars qualifier | 59 | 5 | 66,200 |
| Steven van Zadelhoff | Netherlands | PokerStars qualifier | 59 | 6 | 92,000 |
| Ari Engel | USA | PokerStars player | 59 | 7 | 172,800 |
| Arman Nugmanov | Kazakhstan | | 59 | 8 | 45,200 |
| Taylor Von Kriegenbergh | USA | PokerStars qualifier | 59 | 9 | 35,900 |
| Niko Mykkanen | Finland | | 60 | 1 | 39,300 |
| Johan van Til | Netherlands | PokerStars qualifier | 60 | 2 | 10,800 |
| Ozcan Tok | Switzerland | | 60 | 3 | 61,400 |
| Leonid Lerner | USA | Live Satellite | 60 | 4 | 41,000 |
| Radu Catoiu | Romania | PokerStars qualifier | 60 | 5 | 40,300 |
| Walid Bou Habib | Lebanon | PokerStars qualifier | 60 | 6 | 91,300 |
| Szabolcs Mayer | Hungary | | 60 | 7 | 44,700 |
| Andrey Baturin | Russia | | 60 | 8 | 24,600 |
| Tobias Garp | Sweden | PokerStars player | 60 | 9 | 92,800 |
| Ramzi Jelassi | Sweden | PokerStars player | 61 | 1 | 24,600 |
| Lasell King | Germany | | 61 | 2 | 71,800 |
| Ismael Bojang | Germany | PokerStars player | 61 | 3 | 26,100 |
| Nikov Dobromir Georgiev | Bulgaria | | 61 | 4 | 32,200 |
| Mihai Manole | Romania | PokerStars player | 61 | 5 | 12,600 |
| Vadim Belov | Russia | PokerStars qualifier | 61 | 6 | 85,000 |
| Matthias De Meulder | Belgium | Team PokerStars Pro | 61 | 7 | 25,200 |
| Viktor Chiginev | Russia | | 61 | 8 | 4,900 |
| Marian Kubis | Slovenia | | 61 | 9 | 16,300 |
| Michael Bech Lundsgaard | Denmark | PokerStars player | 62 | 1 | 23,000 |
| Arsenii Karmatckii | Russia | PokerStars qualifier | 62 | 2 | 36,900 |
| Sven Krieger | Germany | | 62 | 4 | 60,400 |
| Dag Palovic | Slovakia | Team PokerStars Pro | 62 | 5 | 79,900 |
| Guillaume Rivet | Canada | PokerStars player | 62 | 6 | 81,500 |
| Natan Lecht | Israel | | 62 | 7 | 53,200 |
| Dmitry Grishin | Russia | PokerStars qualifier | 62 | 8 | 43,700 |
| Sina Alamzad | Romania | | 62 | 9 | 90,200 |
| Evgeny Kocherov | Russia | | 63 | 1 | 12,200 |
| Luca Pagano | Italy | Team PokerStars Pro | 63 | 2 | 137,600 |
| Iaroslav Boiko | Ukraine | | 63 | 3 | 37,000 |
| Igor Yaroshevskyy | Ukraine | PokerStars player | 63 | 4 | 18,200 |
| Thomas Dolezal | Austria | Live Satellite | 63 | 5 | 40,800 |
| Frei Dilling | Denmark | | 63 | 6 | 77,300 |
| Bertilsson Per Anton | Sweden | | 63 | 7 | 90,300 |
| Pavel Meshkov | Belarus | PokerStars player | 63 | 8 | 26,500 |
| Vadzim Markushevski | Belarus | PokerStars player | 63 | 9 | 86,700 |
EPT Prague 2
Datum
14.12.2013
Místo
Hilton Prague
Buy-in
€5.300
Typ
Freeze-out
Starting stack
30.000
Start blinds
50/100
Kapacita
-
Změna blindů
75 min
Prize pool
€4.883.950
První místo
€889.000
Počet hráčů
205/1.007